How to Change Your Mouse Pointer in Windows Vista
How to Change Your Mouse Pointer in Windows Vista
Windows Vista comes with a number of different sets of mouse pointers. Whether you need to change your pointers to make them easier to find or to see or you just want a change, the ability to alter what your mouse pointers look like and how they work is, ironically, just a few mouse clicks away.
1

Choose Start→Control Panel→Ease of Access→Change How Your Mouse Works.

You'll see a mess of options for your mouse cursor.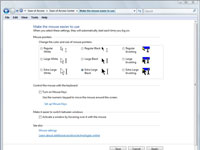 2

Click any mouse pointer sample to select it.

These options control the size and color of the mouse pointer.
3

Click the Mouse Settings link.

The Mouse Properties dialog box appears.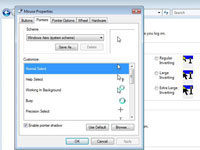 4

Click the Properties tab and choose new pointers for the different states.

You can either select an entire mouse pointer theme from the top or change individual pointers for the different mouse states by selecting the one you want to change, clicking Browse, and double-clicking the pointer you want to use. If the pointer includes any animation (like most "Busy" pointers do), you can preview it in the box in the upper right.

Be careful not to change the cursor to another standard cursor (for example, changing the Normal Select cursor to the Busy hourglass cursor). This could prove slightly confusing for you and completely baffling to anybody else who works on your computer.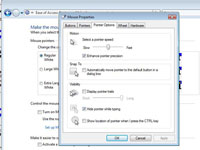 5

Click the Pointer Options tab, and select any desired options.

The options on this tab, which are pretty self-explanatory, allow you to control such specialized mouse features as having the mouse move faster or slower or having it leave a visible trail when you move it.
6

Click Apply to use the new pointer settings and then click OK to close the Mouse dialog box.

If you make a choice and decide it was a mistake, click the Use Default button on the Pointer tab in the Mouse Properties dialog box to return a selected cursor to its default choice.