Empower the Windows 8 Power Button
Empower the Windows 8 Power Button
Instead of reaching for your computer's power switch, you should turn off Windows 8 with its own power button. The power option offers three options: Sleep, Shut Down, and Restart.
Sleep, the most popular option, puts your computer into a low-power slumber, so it loads quickly when turned back on. The built-in power switch in Windows takes quite a few steps to reach, however. To save time, tell your computer's power button how to react when pressed: Should it Sleep or Shut Down?
The same question applies to laptop owners: Should your computer sleep or shut down when you close the lid?
To answer that question, follow these steps:
1

Right-click the desktop's bottom-left corner, choose Control Panel from the pop-up menu, and select the System and Security category.

From the desktop, slide your finger in from the screen's right edge, tap the Settings icon, and tap the Control Panel link in the screen's top-right corner. Then tap the System and Security category.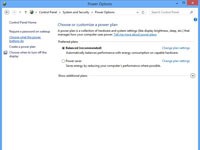 2

Click the Power Options icon.

The Power Options window appears, set to the Windows normal setting: Balanced (Recommended).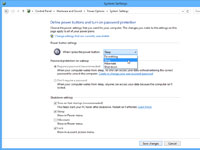 3

From the left panel, click the Choose What the Power Button Does link.

A window appears, offering a menu.
4

Select your changes.

Using the menu, you can tell your PC's power button to Do Nothing, Sleep, Hibernate, or Shut Down. (When in doubt, choose Sleep.)

Laptops and tablets offer extra options on this window: You can make them behave differently according to whether they're plugged in or running on batteries. That lets you run them at full power when plugged in, but to conserve power when on batteries.

Laptop owners also find a menu letting them choose their laptop's behavior when they close its lid or press its sleep button. (This menu also offers different behaviors depending on whether your laptop is plugged in or not.)
5

Click the Save Changes button.

For extra security, select the Require a Password (Recommended) radio button so that anybody waking up your PC needs your password to see your information.

For more information about Windows 8 and its features, explore Windows 8 For Dummies, available online.