How to Set Up Work Folders in Windows 10
How to Set Up Work Folders in Windows 10
Work Folders is a feature in Windows 10 that enables you to access your work files from your personal computer or device. With Work Folders, you can keep copies of your work files on your personal devices and have them automatically synchronized to your company's datacenter.
Here's an example of how an information worker (Let's call her Alice) might use Work Folders to separate her work data from her personal data, while having the ability to work from any device:
Alice saves a document in the Work Folders directory on her computer at work. The document is synced to a file server controlled by her company's IT department. When Alice returns home that evening, she picks up her Microsoft Surface Pro 3 device, where the document is already synced because she previously set up Work Folders on that device.
She takes her Microsoft Surface Pro 3 on a trip, and she doesn't have any Internet access while travelling. She works on the document offline, and when she returns home and an Internet connection is available, the document automatically is synced back with the file server from her company. The next day, she returns to her office and opens the document. All the changes that she made the previous evening are in her Work Folders directory on her work computer.
To set up Work Folders on your Windows 10 computer or device, follow these steps:
1

Click the search bar on the taskbar. Type work folders.

A list of search results appears.
2

Click Work Folders.

The Work Folders window appears.
4

Type your work email address; then click Next.

You're asked to enter the username and password that you use on your company's network.
5

Type the requested details and click OK.

You're asked to enter a Work Folders URL.
7

Click Next.

You see information about the Work Folders feature and where your files will be saved on your computer.
8

Click Next.

The Accept Security Policies page appears.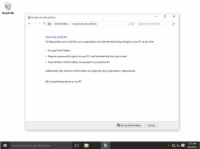 9

Select I Accept These Policies on My PC and click Set Up Work Folders.

Windows 10 spends some time configuring this feature then sends a message informing you that Work Folders has started syncing with your PC.
10

Click Close.

You don't have to wait until syncing finishes. It runs automatically in the background.

Before setting up Work Folders on your devices and computers, you need to ask your company's IT department for the appropriate connection details. For example, you need to know the URL of the Work Folders server and the email address and password to use for this feature.

If you're setting up Work Folders on your work computer, you may not have to go through some of the steps listed here. These steps are generally activated only when you set up Work Folders on your computers and devices from home.