When iMovie and iDVD Get Together
When iMovie and iDVD Get Together
iDVD is a program for authoring, or designing, a DVD. But Apple figures (probably not incorrectly) that DVDs are on their way out. Optical drives are no longer standard on the latest Mac desktop or notebooks, though you can still add such a drive as a USB accessory. So it goes that Apple has discontinued iDVD.
Of course, even if the trends suggest that DVDs are going bye-bye, they won't disappear right away. And it's quite possible that you have an older Mac that not only still has an optical drive, but also iDVD. And iDVD was always tight with iMovie (and, for that matter, with iTunes and iPhoto).
If you have the program, you can exploit Hollywood-style themes and click a Media button to add pictures and music. As noted, you have to share the movie in iMovie before you can do anything with it in iDVD.
When you're ready to burn DVDs, call upon the SuperDrive in your Mac, or again a compatible third-party DVD burner. (Apple works with many types.) Most recent vintage Macs do not include DVD burners, however. You can also author to disk and burn later from another machine.
1

Open iDVD and click Create a New Project.

When you first open the program, you'll get to create a new project, open an existing one, or exploit a feature called Magic iDVD or OneStep DVD. For now, click Create a New Project.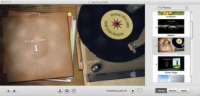 2

Choose a theme.

Just as you find themes in iMovie, themes are available in iDVD. These are menu designs for your DVD, with differing background images, button styles, fonts, music, and animations.

Click the Themes button and scroll through the list on the right to choose a theme that meets your requirements, such as the Vintage Vinyl theme displayed. Many iDVD themes have menus with motion and sound; for example, the record in the record player shown here spins.

You can turn motion and sound on or off by clicking the Motion button (it's the one with the two arrows that don't quite complete a full circle) on the iDVD toolbar.

Many themes default to the widescreen 16:9 aspect ratio available on HDTVs (and some analog TVs). These themes also work in the standard (4:3) format. You can also choose themes from prior versions of iDVD (pre-7.0 themes).
3

You can drop content into designated drop zones to visually embellish an iDVD project. To add a movie to a drop zone, drag it from the Media pane or elsewhere on the Mac.

The drop zone will show the first frame of the movie.
4

Click Preview to check out your DVD.

A little on-screen remote control functions like a regular DVD remote so that you can simulate the post-burning experience.
5

Check out the wealth of information in the Project Info window by choosing Project→Project Info.

You can make sure that you've gone with the right aspect ratio (standard or widescreen). You can see your encoding choice (Best Performance, High Quality, or Professional Quality at the top of the heap), the duration of your project, the capacity used, and more.

Satisfied? Click the Burn button and insert a blank DVD. The burning process takes a while depending on the speed of your burner and the Mac. A progress bar tells you how the operation is going before the disc finally pops out. Don't bother staring at the screen — you probably have better things to do with your time. Like maybe writing your Oscar acceptance speech.