Set up a Master Password on Your Mac
Set up a Master Password on Your Mac
If you have many user accounts set up on your Mac and each has a password, you should have a plan if someone forgets his password. By setting up a master password, the administrator of the Mac (probably you), can override any encrypting that the user may have set up and reset the password.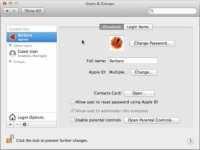 1

Choose Command→System Preferences and click the Users & Groups icon to open the Users & Groups preferences pane.

Click the lock icon and enter your password to unlock the Users & Groups System Preferences.
2

Click the Action button (it looks like a gear) at the bottom of the user list.

Set Master Password option pops up.
4

Type in a password in the Master Password text box.

If you want help inventing a password, click the key to the right of the text field.
5

Retype the password in the Verify text box, and then type a hint to help you remember the Master Password.

You should never use your password as part of the password hint.
6

Click OK.

You are returned to the Users & Groups dialog.
7

Click the Close button of the Users & Groups preferences window.

A master password is now set so the administrator can reset other users' passwords.