How to Password Protect an Office 2008 Document on a Mac
How to Password Protect an Office 2008 Document on a Mac
In Mac OS X Snow Leopard, along with the document-level sharing commands, you can add password protection to any Office 2008 document. To add password, protection, follow these steps with any document you created within Word, Excel, or PowerPoint:
2

In the Save As dialog that appears, click Options.

This displays the Save Preferences pane.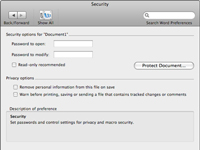 3

Click the Show All toolbar button and Click Security to display the Preferences pane.

Office 2008 offers two types of document passwords.
4

Enter a password in the Password to Open field.

This password must be provided when opening the document.

If you like, you can enter another password in the Password to Modify field. This second password would then also be required to modify the document.

Both passwords are case sensitive.
5

Click OK.

Your changes are saved and you return to your document.