Overview of the Features in Apple's iMac
Overview of the Features in Apple's iMac
The Apple iMac continues a tradition that goes back to the first Macintosh: packaging the computer and display as a single unit. Unlike the PC, Mac's everything-in-one-box approach means a single power cord, fewer connecting cables, nothing to tuck under the desk, and less clutter all around. And who couldn't do with less clutter?
The current iMacs take this idea one step further. All you have on your desk, besides your keyboard and mouse or trackpad, is what looks like an ordinary flat-panel display. Well, not quite ordinary: With an aluminum case and sculpted stand, it's well turned out. But that's all there is. The computer is tucked inside the display. All connections are in the back.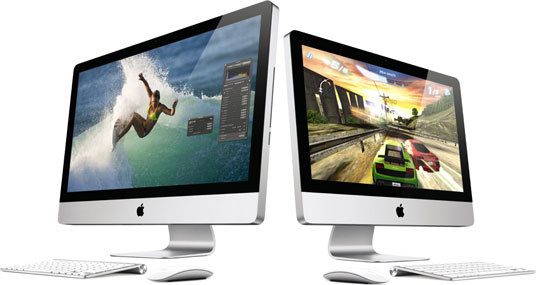 Credit: Photo courtesy of Apple, Inc.
Although the computer is out of sight, it has plenty of mind. The iMac can keep up with most desktop machines on the market.
Each iMac sports a built-in FaceTime HD camera for videoconferencing and chat. Each has an Intel i5 or i7 quad-core microprocessor, AirPort Wi-Fi, Gigabit Ethernet, built-in microphone, and audio in and out. The built-in stereo speakers are powered by a 24-watt digital amplifier, with ample volume for watching videos or listening to music. Both models come with a wireless keyboard and Apple's Magic Mouse or Magic Trackpad.
Both have four USB 2.0 ports and one 800 MHz FireWire port. The 21.5-inch model has one Thunderbolt port; the 27-inch model has two. All ports are neatly lined up along the bottom-left corner of the iMac as you face the rear, so there's no more groping under the desk to get at cable connections.
The lower-cost model is good enough for most ordinary uses. The next model up offers a lush 27-inch display, more RAM, and a larger hard drive for not that much more money. If you have more to spend, you can order up to 16GB of RAM, a terabyte of hard drive space, faster CPU chips, and more capable graphics processors.
The larger screen of the 27-inch model lets you have more open windows onscreen when you're doing complex tasks like editing a video or researching a paper. And with dual Thunderbolt ports, you can add two more widescreen monitors and surround yourself with so much information that your head might explode. Or you could win a Nobel Prize, like Al Gore, who owns such a setup.
Computer displays aren't as bright as flat-screen television sets, but if you don't mind dimming the lights in your living room, you can build a complete home entertainment center with an iMac and an HDTV tuner, such as the eyeTV. It's a helpful solution for a small apartment.
An optional VESA mounting kit, available from the Apple Store, meets the Video Electronics Standards Association (VESA) Flat Display Mounting Interface (FDMI) standard, allowing you to attach a 27-inch iMac to a third-party VESA mounting device.