Organize Your Mac Photos Automatically with iPhoto '11 Smart Albums
Organize Your Mac Photos Automatically with iPhoto '11 Smart Albums
Use Smart Albums to automatically organize your photos in iPhoto, by grouping like photos together. iPhoto automatically places images into Smart Albums, based on the criteria you specify, such as photos you've rated highly, pictures taken with a particular camera, shutter speed, or particular keywords, such as "vacation" or "family." Creating Smart Albums in iPhoto is similar to creating Smart Playlists in iTunes.
1

Choose File→New→Smart Album.

A dialog appears.
2

Type a name for the album in the Smart Album name text box.

Use a descriptive name such as Baig Family Beach Photos.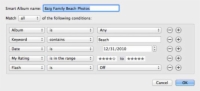 3

Select the conditions that must be met for pictures to be included in the smart album.

Select a category from the first list, an operator from the second such as Is, Contains, or Starts with, and the thing you want to match from the third list. For example, you might select Keyword Contains Beach or Date is 12/31/2010. Click the + button to add additional criteria or the – button to remove criteria.

As new pictures are imported to your library, those that match these conditions are added automatically to the smart album.