How to Use Mac OS X Snow Leopard's Software to Share an Internet Connection
How to Use Mac OS X Snow Leopard's Software to Share an Internet Connection
Mac OS X Snow Leopard has built-in software that allows a single computer on your network to share its Internet connection with others on your local area network (LAN). To share your Internet connection, follow these quick steps: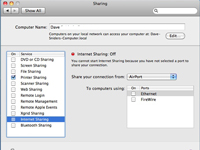 3

Click the Internet Sharing entry at the list on the left side of the pane.

This brings up the Sharing settings.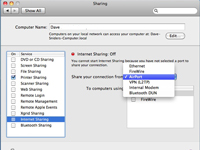 4

Click the Share Your Connection From pop-up menu and choose Ethernet.

If you're using a dial-up modem to access the Internet, you need to make sure that the computer that has the modem also has an Ethernet or wireless LAN connection. Unfortunately, none of the latest Mac models have a built-in modem, but if you buy an external USB modem from Apple (or a third-party vendor), you can still use this feature.
5

Select the Ethernet check box (in the To Computers Using list) to enable it.

When you do, you're issued a warning that enabling this could affect your ISP or violate your agreement with your ISP. This step rarely causes any networking problems. However, if you have any doubts, contact your ISP and verify this.
6

Click OK in the warning dialog to continue.

You go back to the Sharing dialog, where you'll notice that the Internet Sharing check box is conveniently ready for you to select it ¯ feel free to click it now.