How to Share Podcasts in GarageBand
How to Share Podcasts in GarageBand
When you're ready to share your GarageBand podcasts with the public, you have a few options. Before sharing, however, remember that you are responsible for owning or getting permission for any copyrighted material associated with your podcast. Apple maintains the right to pull the plug. You can send your podcast to iTunes by choosing Share→Send Podcast to iTunes or to iWeb by choosing Share→Send Podcast to iWeb. In iWeb, the podcast automatically becomes a blog entry. From iWeb, you can publish your podcast to MobileMe. You can also submit your podcast to the iTunes Store. Your podcast is available free to your public.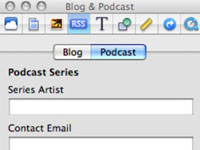 1

Click Inspector in the iWeb toolbar and then click the RSS button to open the Blog & Podcast window.

The Inspector button is on the bottom right of the iWeb toolbar.
2

Add the Series Artist name and Contact Email.

Your e-mail address will not show up in iTunes.
3

In the Parental Advisory pop-up, indicate whether your podcast is Clean or Explicit. Select the Allow Podcast in iTunes Store option.

Now you're ready to submit your podcast to iTunes.
4

Choose File→Submit Podcast to iTunes.

Enter copyright information, a category, the language, and whether it's Clean or Explicit. Click Publish and Submit.