How to Set Up Your Printer with Mac OS X Snow Leopard
How to Set Up Your Printer with Mac OS X Snow Leopard
After you connect your computer and printer with a compatible cable, provide a power source for your printer, and install the software for your printer, you're ready to configure your Mac Snow Leopard so your Mac and your printer can talk to each other.
Many if not all of the steps involving the Print & Fax System Preferences pane require that your printer be turned on and warmed up beforehand.
The first time you connect your printer, you may see an alert asking whether you want to download and install software for your printer.
2

Click the Agree button to proceed.

You may click Disagree if you wish but that halts the installation process.

A Software Update window may appear. If it does, just leave it alone; it disappears after a minute or two.
3

Open the Applications folder and open System Preferences.

You can also open the Applications folder by clicking its icon in the Sidebar of any Finder window or using the shortcut Command+Shift+A.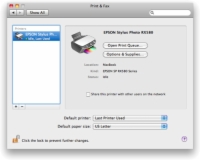 4

Click the Print & Fax icon, and then click your printer's name in the Printers list on the left side of the window.

Snow Leopard is a pretty smart cat; it should have already recognized your printer at this point. If so, your printer's name appears in the Printer list of the Print & Fax System Preferences pane.

If your printer isn't in the list at this point, then you probably need to install (or reinstall) its driver software manually, either from the CD that came with the printer or by downloading the latest driver software from your printer manufacturer's Web site.
5

Click the Default Printer pop-up menu.

Here you can choose which printer Snow Leopard should use by default.
6

Select the default paper size you want to use with this printer from the Default Paper Size menu.

If you live in the United States, the norm is US letter.
7

Close System Preferences.

You're ready to print your first document! Before you do, however, make sure you have the document set up to look just the way you want it to look printed.