How to Set Up an Ad Hoc Wireless Network
How to Set Up an Ad Hoc Wireless Network
Using an Ad Hoc network — also called a computer-to-computer network — is a fairly easy thing to accomplish in Mac OS X Snow Leopard. Plus, you're not limited to just Macs: With an Ad Hoc network, you can also swap niceties with PCs and PDAs that have 802.11b/g/n network interface cards (NICs) installed. This Ad Hoc network is great for setting up an impromptu network in a classroom, exchanging recipes and pictures at a family reunion in a park, or blowing your friend up while gaming across the aisle of a Greyhound bus at 70 mph.
To set up an Ad Hoc network, you first have to create the computer-to-computer network on one of your Macs. This takes advantage of the AirPort Software Base Station that's built into Snow Leopard.
To create a computer-to-computer network, follow these steps: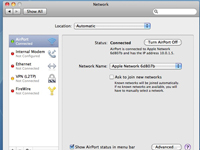 1

Open the Network pane in System Preferences and choose the AirPort entry.

The AirPort entry is in the list at the left of the pane
2

Enable the Show AirPort Status in Menu Bar check box.

Your AirPort status shows up in your menu bar, which makes the rest of this process easier.
6

Enter a name for your network.

Choose a name that is easy to remember.
7

Mark the Require Password check box.

This turns on WEP encryption.
8

Enter a password for your network and then enter it again to confirm it.

Note that the password must be an exact length (which is determined by whether you choose a 40-bit [5-character] key or a 128-bit [13-character] key).

In general, channels 1, 6, and 11 are the only ones that don't overlap other channels and are therefore the best choices to use. If you're close to other WAPs, AirPort Base Stations, or other Ad Hoc networks, try to find a channel that's not being used, or performance can be degraded. (If you have only one access point, it doesn't matter which channel you select; just allow Snow Leopard to automatically select a channel.)
9

Click OK.

Creating a computer-to-computer network gives the illusion of having an AirPort Base Station. So for people to join your network, they would follow the same steps as those they would use to join any other AirPort network.