How to Send an E-Mail with Mac OS X Snow Leopard
How to Send an E-Mail with Mac OS X Snow Leopard
Mac OS X Snow Leopard includes the Apple Mail application for sending and receiving email. Before you send your email, you have plenty of ways to format the text and add attachments. To compose and send a new message to someone, follow these steps: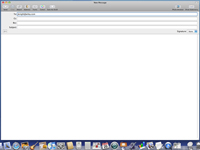 2

Enter the recipient's (To) address.

You can type it in directly, drag it from your Address Book, or click the Address toolbar button.

If you click the Addres button, the Addresses window opens and you can click the address to use and then click the To button. To pick multiple recipients, hold down the Command key while you click the multiple addresses. If you have many Address Book entries, use the Search field on the Addresses window toolbar.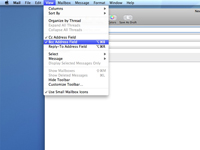 3

(Optional) Select Addresses for the Cc field.

You can type the addresses, use the contents of the Clipboard, or display the Addresses window. If you use the Addresses window, select the addresses that you want to use and click the Cc button. Then click the Close button on the Addresses window and press Tab.

To display the Blind Carbon Copy (Bcc) field, choose View→Bcc Address Field. You can also click the small Field Display pop-up menu at the left side of the Subject field to toggle the display of the Bcc Address Field.
4

Enter the subject of the message and then press Tab.

Your text cursor rests in the first line of the message text box, so you can start typing.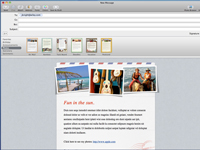 5

(Optional) Click the Show Stationery button on the toolbar.

If you choose a Photo stationery background for your new message, you can drag an image from the Photo Browser, the iPhoto window, or a Finder window to fill the "placeholder" images with your own travel shots.

Not all e-mail applications on other computers correctly display a stationery background.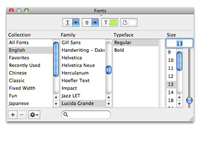 6

(Optional) Select text to apply different fonts or formatting.

Click the Fonts button in the message window toolbar to choose formatting choices. (Click its Close button to continue.)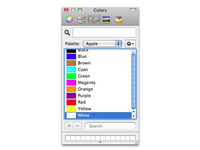 7

(Optional) Add color to any selected text.

Click the Colors button in the message window toolbar and make choices in the Snow Leopard Color Picker that appears.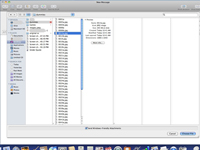 8

(Optional) Click the Attach button on the toolbar.

Find the file to attach, select it, and then click Open. To include a photo in your message, just click the Photo Browser toolbar button.
9

Click the Send.

Alternatively, click the Save as Draft button to store it in your Drafts folder (without actually sending it). To send a message held in your Drafts folder later, click the Drafts folder, and double-click the message. It appears in the message window so you can edit it. Click Send when ready.