How to Reply to an Apple Mail Message with Mac OS X Snow Leopard
How to Reply to an Apple Mail Message with Mac OS X Snow Leopard
Just receiving emails is only half the fun. Mac OS X Snow Leopard makes replying to Apple Mail messages simple. You can format your replies with different fonts and colors and add attachments. To reply to a message in Mail, follow these steps: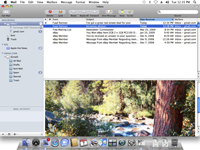 1

Click the message and then click the Reply button on the toolbar.

If the message is already open, click the Reply button on the toolbar for the message window. If a message was addressed to several people, you can send your reply to all of them by clicking the Reply All button on the Mail window toolbar.

To choose text from the original message to include in a reply, select the text in the original message before clicking the Reply button. If you don't want to include the original text, choose Mail→Preferences. Click the Composing button and disable the Quote the Text of the Original Message check box.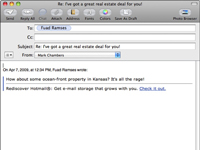 2

Type your text into the Reply window.

When the Reply window opens, the address is added and the default Subject is Re: <the original subject>. The original text is indented and prefaced by a vertical line to set it apart.
3

(Optional) Click in the Subject line and make changes.

If no change is necessary, just start typing.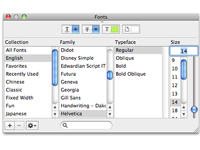 4

(Optional) Select text and change the formatting.

To change your reply's font, click the Fonts button on the message window toolbar. You can choose the font family, the type size, and formatting (such as italic or bold). Click the Close button on the Fonts window to continue.

To apply color to the selected text, click the Colors button and then select a color. Click the Close button to continue.

To create a list, click Format→Lists and choose a bulleted or a numbered list. Click outside the bullet formatting to complete the list.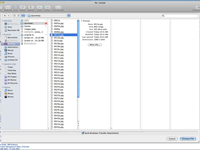 5

(Optional) Click the Attach button on the toolbar if you want to attach a photo or other file.

Mail opens the Open dialog. Navigate to select your file, and click the Open button to add it to the message. If the recipient is running Windows, click the Send Windows-Friendly Attachments check box.

Apple includes a Photo Browser button on the toolbar. Click this button on the Reply or New Message window toolbars and you can choose a photo from your iPhoto library to insert directly into your message.
6

Click the Send button to add the message.

After you click Send, your message is sent immediately or at the next connection time as specified in your Mail Preferences. To finish your message later, click the Save as Draft button.