How to Receive and Read Apple Mail on Mac OS X Snow Leopard
How to Receive and Read Apple Mail on Mac OS X Snow Leopard
After you set up an email account on your Mac OS X Snow Leopard (or select an account from the Accounts list), you can check for mail messages to read. To check for messages and read them, follow these steps: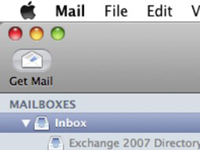 1

Click the Get Mail button on the toolbar.

Alternatively, you can right-click the Mail icon in the Dock and choose Get New Mail from the menu that appears, or choose Mailbox→Get New Mail and then choose the specific account to check from the submenu.

If you have new mail in the active account, it appears in the Message list. The number of unread messages is displayed next to the Inbox folder icon in the Mailboxes list. Mail also displays the number of new messages that you've received on its Dock icon. If you've hidden the Mail window or sent it to the Dock, you can perform a quick visual check for new mail just by glancing at the Dock.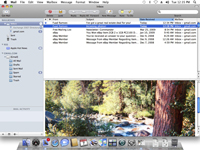 2

Click the message you want to read.

New unread messages appear with a snazzy blue dot in the first column. Clicking one displays the contents of the message in the preview pane. To open the message in a separate message window, complete with its own toolbar controls, double-click it.

To quickly scan your mail, click the first message that you want to view in the list and then press the down-arrow key when you're ready to move to the next message. Mail displays the content of each message in the preview pane. To display the previous message in the list, press the up-arrow key.
3

(Optional) Choose View→Organize by Thread.

To expand a thread, click the original message to select it; then press the right-arrow key. To collapse a thread, select the original message and press the left-arrow key.
4

(Optional) Delete the message if you no longer need it.

Click the desired entry to select it and then click the Delete button on the toolbar (or press the Del key). To delete a message from within a message window, click the Delete button on the toolbar.