How to Publish Pictures to the MobileMe (Mac) Gallery
How to Publish Pictures to the MobileMe (Mac) Gallery
As part of your MobileMe (formerly .Mac) subscription, you can publish your pictures to the new MobileMe Gallery. Here's how you can you upload all the great pictures on your Mac and share them with others.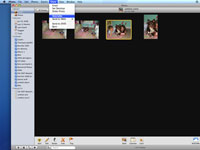 1

Choose the album, event, or batch of pictures you want to share. Click the Add (+) button and choose MobileMe (or choose Share→MobileMe).

A dialog box appears where you can enter the relevant information pertaining to your album, event, or pictures. (A name may appear by default.)
2

Type a name and decide who can view your album.

Choices are just you, everybody (who has the Web address), and only those people you let in with a password.
3

Select your other publishing options.

You get to choose whether to let your viewers download some or all of the album or upload their own images to your album. You can create an e-mail address to send pictures to your album from a cell phone.
4

(Optional) Click Show Advanced.

Selections here let you hide the album on your Gallery page altogether. And you can also choose whether to optimize the download quality to publish photos quickly or to stick with photos in their actual resolution.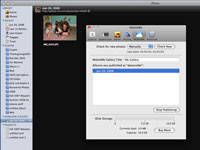 6

Click the Tell a Friend button in the Gallery toolbar to spread the word via e-mail.

You can pull the plug on your pals by clicking the MobileMe tab inside iPhoto preferences and choosing Stop Publishing. This action removes the photos from your Gallery but not from iPhoto. While in preferences, you can also see which other albums you are publishing.

The previous edition of iPhoto introduced the concept of photocasting, a kind of podcasting with pictures. You can continue to publish any existing photocast albums and you can move them to the Gallery. Just remember to update subscribers to those albums with a new URL.