How to Import Digital Images from Your Camera into Mac OS X Snow Leopard
How to Import Digital Images from Your Camera into Mac OS X Snow Leopard
iPhoto — Mac OS X Snow Leopard's application for working with photos — includes an import mode that lets you download images directly from your digital camera into iPhoto. Follow these steps to import images:
1

Connect your digital camera to your Mac.

Plug one end of a USB cable into your camera and the other end into your Mac's USB port, and prepare your camera to download images.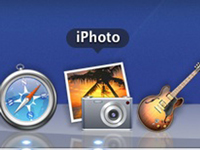 2

Launch iPhoto.

Your Mac will probably launch iPhoto automatically when your camera is detected, but you can always launch iPhoto manually by clicking its icon in the Dock (or in your Applications folder).
4

(Optional) Type a description for the Event.

Remember those old boxes of photos full of pictures that no one can remember where they were taken? That's a thing of the past.
5

(Optional) Click the Autosplit Events after Importing check box to select it.

This allows iPhoto to automatically separate images into separate events based on the date they were taken.
6

Click the Import All button to import your photographs from the camera.

The images are added to your Photo Library, where you can organize them as you wish.

To select specific images to import, hold down the Command key and click each desired photo; then click Import Selected instead of Import All.
7

Specify whether the images you're importing should be deleted from the camera afterward.

If you don't expect to download these images again to another computer or another device, you can choose to delete the photos from your camera automatically. This saves you a step and frees space for new photos.