How to Erase a Disk Volume on Mac OS X Snow Leopard
How to Erase a Disk Volume on Mac OS X Snow Leopard
Mac OS X Snow Leoparad's Disk Utility has an Erase feature for erasing a disk or volume, completely wiping out the contents of that existing disk or volume. You can also erase a rewritable CD (CD-RW) or DVD (DVD-RW, DVD+RW, or DVD-RAM) from the Erase pane. To erase, follow these steps:
1

Open the Disk Utility.

Disk Utility is located in the Utilities folder under the Application folder.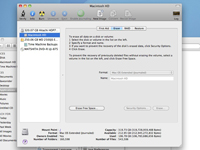 2

Click the disk or volume icon that you want to erase from the list on the left side of the screen.

Erasing an entire disk deletes all volumes on the disk and creates a single new, empty volume. Erasing a volume wipes only the contents of that specific volume, leaving all other volumes on the physical disk untouched.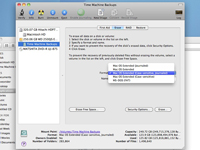 4

Click the format that you want to use from the Format pop-up menu.

Choose Mac OS Extended (Journaled) from the Format list unless you have a specific reason to use the MS-DOS File System (for compatibility with PCs running Windows) or the UNIX File System (for compatibility with UNIX/Linux machines). Sometimes Disk Utility forces you to choose the Mac OS Extended entry, but the end result is the same.
5

In the Name field, type the name for the new, clean volume.

If you're erasing an existing volume, the default is the existing name.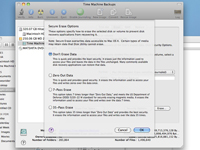 6

(Optional) Click Security Options and specify the method you want to use.

By default, this is set to Don't Erase Data, so Disk Utility doesn't actually overwrite any data while formatting; instead, it simply trashes the existing directory, rendering that data unreachable. However, some third-party disk utilities allow recovery of files. You can specify more secure methods of erasing a disk or volume. Unfortunately, these more secure erasure methods can take a horrendous amount of time.

It's okay to use the Don't Erase Data option unless you want to make sure that nothing can be recovered, or use the Zero Out Data to take a more secure route with the least amount of extra waiting. You can even click Erase Free Space to wipe the supposedly "clean" areas of your drive before you format.
7

Click the Erase button.

In the sheet that appears, click Erase to confirm that you do actually want to do the deleterious deed.