How to Enable File Sharing on Mac OS X Snow Leopard
How to Enable File Sharing on Mac OS X Snow Leopard
You can use Mac OS X Snow Leopard's Spotlight feature to look for matching items on other Macs on your network, but only if those remote Macs are configured correctly. To allow another Mac running Mac OS X Tiger, Leopard, or Snow Leopard to be visible to Spotlight on your system, enable File Sharing on the other Mac. (Oh, and remember that you need an admin-level account on that Mac or access to a good friend who has an admin-level account on that Mac.)
Follow these steps to enable File Sharing on the other Mac: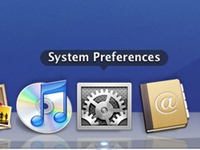 1

Click the System Preferences icon in the Dock.

You will see options that let you choose where to search.
3

Select the On check box next to the File Sharing item.

This enables files sharing.
4

Click the Close button on the System Preferences window.

Remember, you can search only items that you have rights and permissions to view on the remote Mac (such as the contents of the Public folders on that computer).