How to Edit Text on an iWeb Page in Mac OS X Snow Leopard
How to Edit Text on an iWeb Page in Mac OS X Snow Leopard
If you have an iWeb Web site, you'll want to personalize your pages with your own information. Mac OS X Snow Leopard's iWeb makes editing your page easy. To begin editing a page, click it in the Site Organizer.
First, update the text with your own information by following these steps: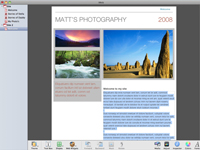 1

Click the text you want to replace.

As do most desktop publishing applications, iWeb uses boxes to enclose text. When you click the text, the box appears, with handles that you can drag to resize the box.
2

Type your new, personal text.

iWeb replaces the existing template text with the text you type, using the text formatting taken from the template. Don't forget that you can paste text from the Clipboard by pressing Command+V. To match the text style of the template, though, press Option+Shift+Command+V.

Mistakes are passé in iWeb. To undo your last action, you can always press the familiar Command+Z keyboard shortcut or choose Edit→Undo.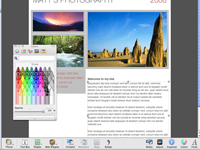 3

Highlight and format your new text as necessary.

To make changes easier, click the Inspector button in the iWeb toolbar. You can click the Colors or Fonts buttons on the iWeb toolbar to display a Color Picker or Font Panel for the selected text.
4

Click outside the text box after you're satisfied with the text.

Because you're likely modifying everything on the template pages from the title to the last box on the page, repeat these steps for each section of text you want to change.