How to Edit a Mac OS X Snow Leopard User Account
How to Edit a Mac OS X Snow Leopard User Account
If you have administrator access, Mac OS X Snow Leopard lets you change an existing account from the Accounts pane in System Preferences. You can control a number of settings via user accounts, such as parental controls. This demonstration shows you the steps you take to assign a personalized account picture: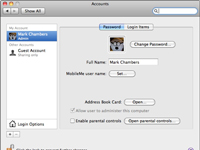 1

Click System Preferences and then choose Accounts.

The Accounts pane opens and displays the accounts created on your Mac.
2

Click the account that you want to change in the Accounts list.

If the accounts in the list are disabled and you can't select one, you must unlock the Accounts pane. Click the lock at the bottom left of the System Preferences pane and type your password.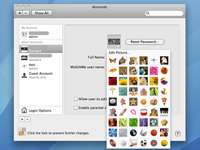 3

Edit the settings that you need to change.

Click the square picture well to specify the thumbnail image that appears in the Login list next to the account name; Apple provides a number of good images.
4

(Optional) Click Edit Picture.

This lets you add your own picture. You can drag a new image from the Finder into the icon placeholder or click Choose to select one from an Open File dialog; then click Set.

Alternatively, you can click the Take a Video Snapshot button to grab a picture from your iSight or other video camera connected to your Mac. Most cool.
5

Press Command+Q.

This saves your changes and closes the System Preferences pane.