How to Create Smart Groups in Snow Leopard's Address Book
How to Create Smart Groups in Snow Leopard's Address Book
Mac OS X Snow Leopard's Address Book provides you with a method of organizing your cards into groups. A group usually consists of folks with a common link, such as your family, friends, co-workers, and others who enjoy yodeling.
To create a group, choose File→New Group or press Command+Shift+N. Address Book creates a new entry in the Group column, with a highlighted text box so that you can type the group name. After you type the group name, press Return to save it and then click and drag the entries that you want to add to the New Group icon.
After you create a New Group, you can instantly display members of that group by clicking its icon in the Group column. To return to the display of all your contacts, click the All Group button.
You can also create a Smart Group, which automatically adds new contacts you create to the proper group, depending on the criteria you specify! To create a Smart Group, follow these steps: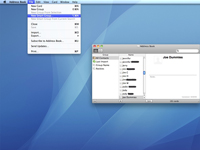 1

Click File and click New Smart Group.

A dialog appears, ready for you to give your new Smart Group a name.
2

Type a name for the new Smart Group.

For example, you could set up a Cell Phone group that you can use when syncing data with your Bluetooth cell phone.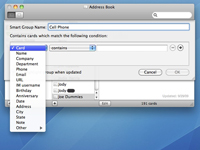 3

Click the Card pop-up menu and choose the item that will trigger the action.

For example, you can choose to automate a Smart Group according to the contents of each new card, a company name, or a particular city or state.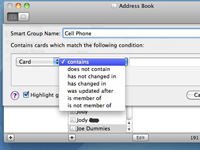 4

Click the Contains pop-up menu and choose the criterion for the item.

An item might contain (or not contain) a specific string of characters, or it might have changed in a certain amount of time. You could set up a Smart Group that automatically checks the Company field in every new card for a contact's company name and adds that contact card to a group if a match occurs.
5

(Optional) To add another criteria line, click the button with the plus sign at the end of the first text field.

If you decide you have one criterion line too many, click the button with the minus sign next to the offending rule.
6

After your Smart Group criteria are correct, click OK.

The Smart Group name appears in your group list. Voilà!