How to Create a User Account on Mac OS X Snow Leopard
How to Create a User Account on Mac OS X Snow Leopard
Creating an account is the first step in setting up Mac Snow Leopard for multiple users. One great use of accounts is to create an account for your children so you can set parental controls. You can limit a specific user's access to certain files and Web sites and limit who can change passwords and monkey with other settings. It all begins in the Accounts pane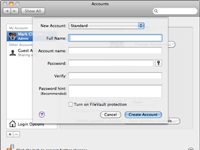 2

Click the New User button.

An empty user record sheet is created.

If the New User button is disabled and you can't click it, click the lock at the bottom left of the System Preferences pane and provide your password to unlock the Accounts pane.
3

Select the access level for this user from the New Account pop-up menu.

By default, the user receives a standard level account. You can also choose an Administrator account, or a managed standard account with Parental Controls already enabled.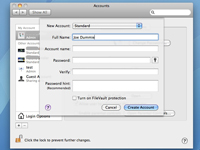 4

In the Name text box, type the name that you want to display for this account (both in the Accounts list and on the Login screen) and then press Tab to move to the next field.

Mac OS X automatically generates a short name for use as your screen and Buddy name in iChat and various network applications. The short name is also the name of the folder that Mac OS X creates on the computer's hard drive for this user. You can keep the default short name or type a new one, but it must not contain any spaces.
5

Press Tab again.

You will be given the chance to create a password for the account.
6

Type the password for the new account.

Click the button with the key icon next to the Password field, and Snow Leopard is happy to display the Password Assistant, complete with a suggestion. Click the Suggestion pop-up menu to see additional suggestions. You can choose the length of the password and select among several types: letters and numbers, numbers only, memorable, completely random, or even government-quality. The Assistant automatically copies the current password you're considering to the Password text box.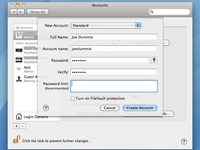 7

Press Tab, type the password in the Verify text box, and press Tab twice to continue.

If you decide to use the password hint feature, you can enter a short sentence or question in the Password Hint text box. The hint is displayed after three unsuccessful attempts at entering the account password.

Any hacker could type in anything three times to get your hint to pop up! If you do use this option, at least make sure that the hint is sufficiently vague!
8

(Optional) Select the Turn On FileVault protection check box.

Snow Leopard offers a feature called FileVault, which provides Home folder encryption that prevents just about anyone except the NSA or FBI from gaining access to the files in your Home folder.
9

Click the Create Account button to finish and create the account.

The new account shows up in the Accounts list and in the Login screen.