How to Create a Photo Book with iPhoto 09
How to Create a Photo Book with iPhoto 09
Mac OS X Snow Leopard includes iPhoto 09 for all your image needs. iPhoto's Book mode lets you design and print a high-quality bound photo book based on the images in an iPhoto album. After you format and customize your photo book, iPhoto can send your images as data over the Internet to a company that prints and binds your finished book for you.
If you're going to create a photo book, make sure that the images have the highest quality and highest resolution. The higher the resolution, the better the photos look in the finished book. Try to use images of over 1,000 pixels in both the vertical and horizontal dimensions.
To create a photo book, follow these steps: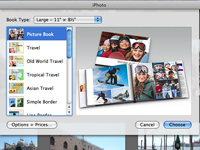 2

Click the Keepsakes toolbar button and click Book from the pop-up menu.

Depending on your screen resolution, iPhoto may have room to display the Book button by itself.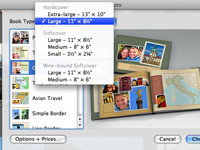 3

Select the size of the book and a theme.

Your choices determine the number of pages and layout scheme, as well as the background graphics for each page.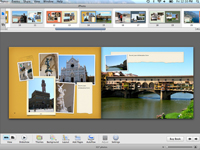 4

Click Choose.

In Book mode, the Viewer displays the current page at the bottom of the display and adds a scrolling row of thumbnail images above it. This row of images represents the remaining images from the selected album that you can add to your book. You can drag any image thumbnail into one of the photo placeholders to add it to the page. You can also click the Page button at the left of the thumbnail strip.
5

(Optional) Rearrange the page order by dragging the thumbnail of any page from one location to another in the strip.

In the Book toolbar below the page view, you can adjust a variety of settings for the final book, including the book's theme, background, page numbers, and text fonts.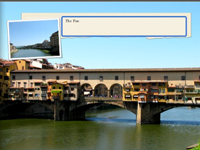 6

Add captions and descriptions.

At this point, you can also add captions and short descriptions to the pages of your photo album. Click any one of the text boxes in the page display and begin typing to add text to that page.