How to Create a Custom Dashboard Widget in Mac OS X Snow Leopard
How to Create a Custom Dashboard Widget in Mac OS X Snow Leopard
Mac OS X Snow Leopard's Dashboard comes loaded with widgets, but did you know you can also create your own? That's right, you can create your own miniature programs to do simple tasks for you. The following example shows you how to create a new WebClip Dashboard widget from your favorite Web site:
1

Open the Web site you want to view as a widget.

Run Safari and navigate to the site you want to view as a widget.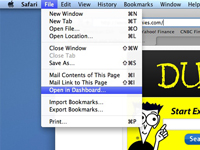 2

Click File→Open in Dashboard.

Dynamic displays, such as weather maps, cartoons, even the Free Music Download image from the iTunes Store, are all good sources of WebClip widgets! (That last one is a real timesaver.)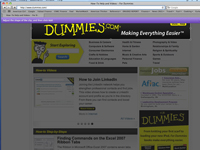 3

Select the portion of the page you want to include in your widget and click Add.

Most Web pages use frames to organize and separate sections of a page, so this step allows you to choose the frame with the desired content.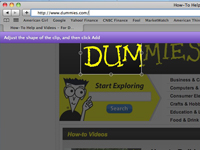 4

Drag the handles at the edges of the selection border to resize your widget frame to the right size and then click Add.

Snow Leopard displays your new WebClip widget within Dashboard.

A WebClip widget can include text, graphics, and links, which Dashboard updates every time you display your widgets. If you click a link in a WebClip widget, Dashboard loads the full Web page in Safari, so you can even use WebClips for surfing chores with sites you visit often.