How to Compensate for Hearing Limitations on the Mac
How to Compensate for Hearing Limitations on the Mac
To adjust for hearing impairments, you can have your Mac flash the screen to catch your attention and set up subtitles and closed captioning to appear when those options are available. Follow these steps to manage these two Hearing options: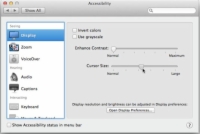 1

Choose Command→System Preferences and click the Accessibility icon.

The Accessibility preferences pane, shown here, opens.
2

Click the Audio tab, and then select the Flash the Screen When an Alert Sound Occurs check box.

(Optional) Select the Play Stereo Audio as Mono check box to remove the stereo effect from music or other stereo-enabled sounds your Mac plays.

Stereo plays separate audio tracks for each speaker. This effect mixes those tracks and plays the result through one speaker, which means that people who have hearing impairment in one ear get all the audio in the non-impaired ear.

Use the Sound Preferences to adjust the volume of alerts and other audible output.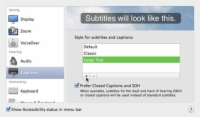 3

Click the Captions button to select how you want to see subtitles or closed captioning, when those services are available.

Make the appropriate selections from the options shown.

Style for Subtitles and Captions: Click one of the choices in the list, as shown in the figure, to see how it will appear and select it. Or click the plus button to create a custom subtitle style. In the window that opens, type a name for your new subtitle; choose the typeface, size, and color from the pop-up menus; and then click Done. The new subtitle style is added to the list.

Prefer Closed Captions and SDH (Synchronous Digital Hierarchy): Select this check box if you want to see those types of captions rather than subtitles.
4

Click the Close button or press ⌘+Q to quit System Preferences or go on to the next section to set up other Accessibility functions.

If you're watching movies, TV shows, or other video in one of your Mac's media player applications (such as iTunes, QuickTime, or DVD Player), you may have closed caption options available, depending on the source of the video. Some apps have controls for subtitles and closed captioning within their menus.