How to Change Default Colors in Mac OS X Snow Leopard
How to Change Default Colors in Mac OS X Snow Leopard
If you don't appreciate menus with purple highlights, you can specify a different color. Mac OS X Snow Leopard lets you choose a main color and a highlight color. Your menus and buttons will all adhere to this new color scheme you define. To specify your own colors for buttons, menus, and windows, follow these steps: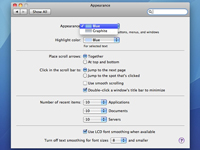 2

Click the Appearance pop-up menu and choose the main color choice for your buttons and menus.

Go wild; you can always change the color again later.
3

Click the Highlight Color pop-up menu and pick the highlight color.

This is the color that appears when you select text in an application or select an item from a list.
4

Press Command+Q.

You exit System Preferences and your changes are saved.