How to Burn Audio CDs from an Apple iPod
How to Burn Audio CDs from an Apple iPod
You can use your Apple iPod to create, or burn, your own CDs or DVDs. You just need a proper CD or DVD burner, such as Apple's own Super Drive, which is included in most Macs.
1

Click the Burn Disc button near the bottom-right corner of the iTunes window. For the Disc Format, select Audio CD.

Apple also gives you the option to burn an MP3 CD. The advantage is that you can store a lot more music (more than 12 hours, or 150 songs) on a typical CD-R disc. The rub: Fewer CD players can handle this type of disc. You can also burn to a data CD or DVD, but again the discs may not play in some players.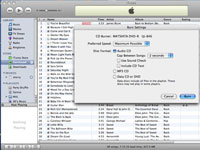 2

Choose the gap between songs (from 0 to 5 seconds, 2 seconds is the default).

The Burn Settings window appears.
3

If you want all the songs on the CD to play at the same volume, select Sound Check. If you want, select Include CD Text. Choose the playlist with the songs you want to burn and make sure all the tunes you want have check marks next to their names.

Think about the length of your tracks. Regular CDs have room for about 74 to 80 minutes of music, or approximately 20 songs.
4

When you're ready, click the Burn button in the bottom-right corner of the Burn Settings window. When instructed, insert a blank disc.

Use a CD-R disc if you want to play the CD in almost any player. Although this type of disc can't be erased after you've recorded on it, it works in many more players than rewriteable CD-RW type discs, the kind that can be erased and rerecorded.
5

Click Burn Disc again.

Your CD burner chugs away. The entire procedure may take several minutes.