How to Add a Person to the Mac Address Book
How to Add a Person to the Mac Address Book
You can add addresses, phone numbers, and e-mail addresses to the Mac Address Book. You can also add a picture and note about the person ("awfully cute; owns a Mac"). You can access the Mac Address Book through the Applications folder or by clicking the Address Book dock icon. After opening the program, you can then add a person to your address book: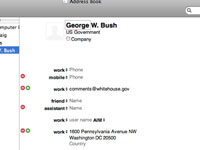 1

Under the column marked Name, click the + sign.

You can alternatively open the Address Book and choose File→New Card.
2

Type the person's first and last names, company, phone number, and other information in their appropriate fields.

Press the tab key to move from one field to the next. You can skip fields if you don't have information and add others as need be. For example, to add space for a new mobile phone number entry, click the + next to the field name.
3

Close the Address Book.

You're all done!