Sugar Addiction
When a sweet tooth interferes with your well-being, it's time to look at ways of mindfully reducing your sugar intake, without taking the joy out of life. We'll show you how.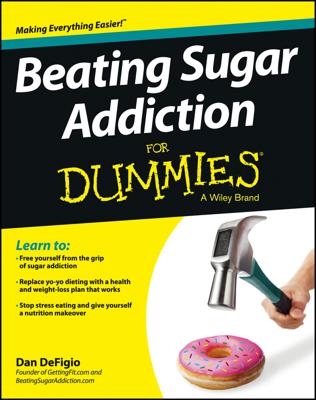 Sugar Addiction
Beating Sugar Addiction For Dummies
Are you a sugar addict? Beating Sugar Addiction For Dummies provides you a safe and healthy path to overcome your addiction, eliminate stress eating, and upgrade your nutrition for a healthier lifestyle. Sugar addiction is a rapidly growing epidemic that can lead to obesity, chronic fatigue, diabetes, and a host of other medical and psychological problems. Beating Sugar Addiction For Dummies helps those who are affected by this commonly overlooked addiction to outsmart their sugar cravings and overcome their addiction. The tips in this book will help you: Learn to stop stress eating and perform a nutrition makeover that makes the low-sugar lifestyle easy! Stop the frustration of yo-yo dieting, and finally find an eating plan that works. Free yourself from the grip of sugar addiction and regain control over your life. Beating Sugar Addiction For Dummies contains everything you need to start your journey down the road to wellness: Four common types of sugar addicts – which one are you? Finally understand carbs, protein, and fat with a simple nutrition system for weight loss and healthy eating, including what to choose and what to stay away from Detoxing from sugar and performing a kitchen makeover Eating mindfully – making purposeful decisions instead of stress eating How to survive holidays, restaurants, and special occasions Building a support system Exercise programs for energy and weight loss Speedy low-sugar recipes for breakfast, lunch, dinner, snacks, and desserts Staying on track and breaking the cycle of failure – including a step-by-step list of exactly what to do when a sugar craving strikes! If you're one of the millions of people worldwide who relies too much on sugar for energy, comfort, or convenience, Beating Sugar Addiction For Dummies is your no-nonsense guide to decreasing your sugar intake, losing weight, and changing your life for the better!
Explore Book
Buy On Amazon