Strength Training
Want to get stronger? We've got exercises, safety tips, and muscle basics. Read these short-and-sweet articles while you rest between sets.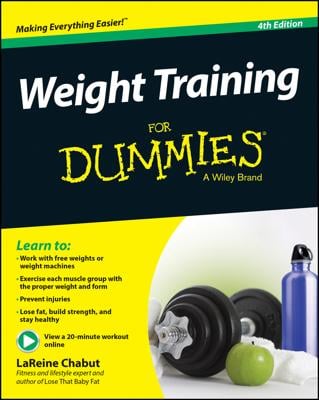 Strength Training
Weight Training For Dummies
Tone up, burn calories, stay strong Weight Training For Dummies makes it easy to get started with weight training by offering trusted and straightforward guidance on the latest circuit and resistance training, and all-new information on the highly popular bodyweight and High Intensity Interval Training (HIIT). Whether you're working with dumbbells, free weight sets, or machines, you'll find out how to combine weight training with other exercise to properly strength train and get in the best shape of your life. Along with aerobic exercise and flexibility, body weight training is an integral part of a complete physical activity program. But with all the different equipment and techniques available, getting started can feel overwhelming. Want to get pumped about weight training? Consider these facts: strength training, whether via free weights or a machine, builds muscle. And the more muscle you have, the higher your metabolism and the less prone you are to injuries—in and out of the gym. Plus, strength training promotes bone strength, which can significantly reduce your odds of developing osteoporosis. If that's not enough, strength training—unlike cardio workouts like running—reaps benefits almost immediately. So what are you waiting for? Weight Training For Dummies has everything you need to get started. Provides examples and directions for powerful 20-minute weight training routines for the time challenged Features advice to help you choose a weight training system that you enjoy and that fits into your lifestyle Includes new coverage devoted to warm-ups and the hottest and most beneficial stretches Introduces using weight training to address specific health or orthopedic conditions Whether you're already in the gym several times a week or are just starting out with a fitness routine, Weight Training For Dummies shows you how to use free weights or weight machines to get results—fast.
Explore Book
Buy On Amazon
Strength Training
Kettlebells For Dummies
The way to a full-body workout with amazing results by mastering kettlebells Have you heard the buzz about the all-in-one strength and cardio workout that works every muscle in the body at once? There's a reason why professional athletes and A-list celebrities are joining the Kettlebells revolution-and now you can, too! With numerous step-by-step photos throughout, Kettlebells For Dummies gives you everything you need to use kettlebells to safely improve strength, endurance, flexibility, joint durability, agility, mobility, athletic movement, and proper body alignment. Whether you're in your teens, 20s, 30s, 40s, 60s and beyond, you'll discover how this fast-growing fitness phenomenon can boost your metabolism and help you lose weight by mastering numerous kettlebell exercises. One of the most effective workouts for burning fat, building lean muscle, and achieving core strength One-hour workout can burn as much as 1,000 calories Named one of the most popular fitness trends in 2009 Whether you're a self-proclaimed gym rat or have never lifted a weight, Kettlebells For Dummies shows you that it's easy to use kettlebells to achieve a full-body workout that yields amazing results.
Explore Book
Buy On Amazon
Strength Training
Weight Training Diary For Dummies
From free weights and resistance bands to Pilates and yoga, weight-training is an exciting -- and healthy -- trend. The Weight Training Diary For Dummies is the perfect tool for any avid body builder. Filled with expert advice on health, nutrition, equipment, and accessories, it also includes injury prevention exercises and body fat to weight conversion charts to help you keep track of your progress.
Explore Book
Buy On Amazon