Portuguese
Follow the crowd — there are more than 250 million Portuguese speakers around the world. Join them as you immerse yourself in Brazilian or European Portuguese.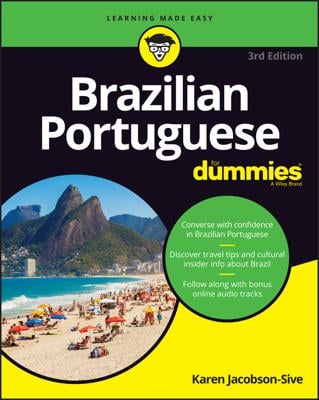 Portuguese
Brazilian Portuguese For Dummies
Language learning is easy with Dummies Brazilian Portuguese For Dummies can help you achieve your goals of learning another language. Traveling to Brazil? Taking a class in school? Want to meet people and pick up a new hobby? Just curious about the sixth most spoken language in the world? We've got you covered, with easy-to-follow lessons on the basics, plus phrases and topics you need to know, like greetings, travel phrases, business phrases, numbers and measurements, and social media. Add speaking Portuguese to the long list of cool things you can do—with the help of Brazilian Portuguese For Dummies. Start from the beginning and learn the very basics of Brazilian Portuguese Practice authentic phrases for travel, business, and communicating online Perfect your pronunciation with bonus audio tracks, and discover fun facts about Brazilian culture Get recommendations for movies, travel tips, and moreWhether you're studying Portuguese for business, school, or pleasure, Dummies is the best guide for getting started with this beautiful language.
Explore Book
Buy On Amazon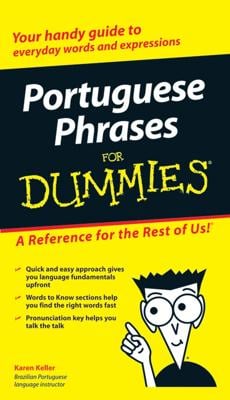 Portuguese
Portuguese Phrases For Dummies
Are you thinking about traveling, studying, or working in Portugal or Brazil, but you don't know any Portuguese? Want to improve your conversation skills with the Portuguese-speaking people in your life? Portuguese Phrases for Dummies is the perfect diving board for anyone looking to communicate and even become fluent in the language. As the fifth-most widely spoken language in the world, Portuguese can be heard in South America, Africa, Asia, and of course, Portugal. If you want to know basic Portuguese but don't want a boring textbook that unloads tons of conjugation rules or long lists of words to memorize, then this quick-and-easy phrasebook will get your feet wet without overwhelming you. This friendly book covers a wide array of subjects both helpful and interesting, including: Numbers, days of the week, measurements, and time Making friends and small talk Enjoying every type of meal Shopping in markets and at stores Culture, leisure, and activities Work and transportation Finding a place to live Dealing with emergencies Slang and colloquial terms Phrases and particles to make you sound like a local! Knowing these fundamentals, you'll be able to communicate with Portuguese-speaking people and continue learning about the language and culture. With hundred of useful phrases at your fingertips, Portuguese Phrases for Dummies will give you a basic comprehension of this beautiful language and have you speaking instantly!
Explore Book
Buy On Amazon