Portuguese
Follow the crowd — there are more than 250 million Portuguese speakers around the world. Join them as you immerse yourself in Brazilian or European Portuguese.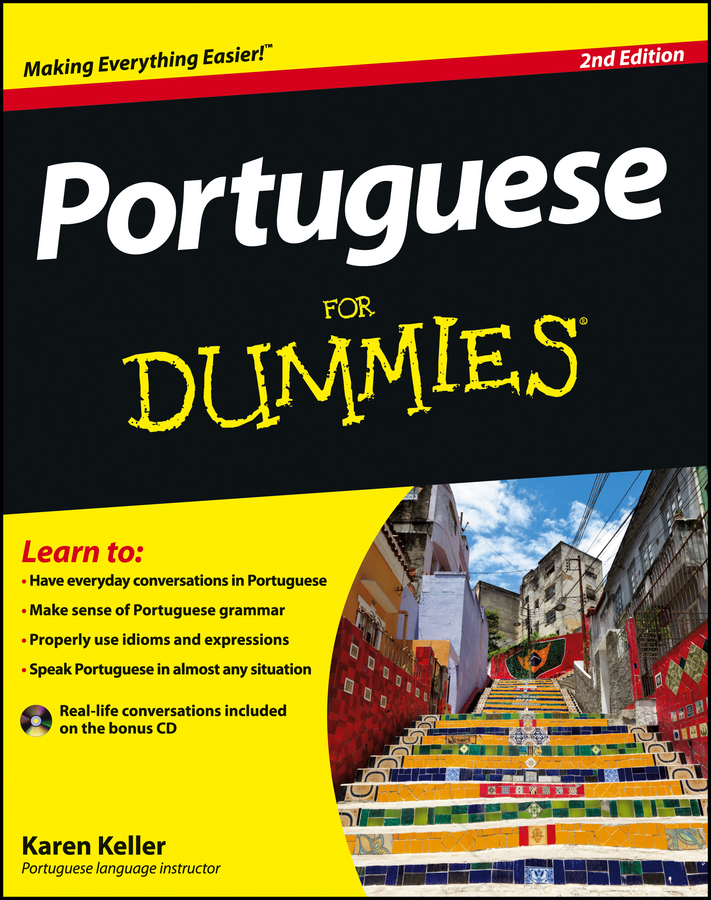 Portuguese
Portuguese For Dummies
Published 02-11-2013
The fast and easy way to learn to speak Brazilian Portuguese
Quick! What's the most widely spoken language in South America? That's right, Portuguese! And what's the fastest, easiest, most enjoyable way to learn Portuguese? Portuguese for Dummies, of course! This fun, friendly guide helps you start speaking Brazilian Portuguese immediately!
Whether you're a student, a traveler, or you work in business or government, you'll love its practical lessons, cultural facts, and handy references—including a Portuguese-English mini-dictionary, lists of vital verbs, and more!
Have everyday conversations in Portuguese
Make sense of Portuguese grammar
Use idioms and popular expressions
Improve your pronunciation
Grasp verb conjugations
Get around in Portuguese-speaking countries
Portuguese For Dummies comes complete with a CD loaded with real-life dialogues that help you understand and pronounce this lovely, lyrical language with ease.
CD-ROM/DVD and other supplementary materials are not included as part of the e-book file, but are available for download after purchase.
Explore Book
Portuguese
Portuguese Phrases For Dummies
Published 01-10-2007
Are you thinking about traveling, studying, or working in Portugal or Brazil, but you don't know any Portuguese? Want to improve your conversation skills with the Portuguese-speaking people in your life? Portuguese Phrases for Dummies is the perfect diving board for anyone looking to communicate and even become fluent in the language.
As the fifth-most widely spoken language in the world, Portuguese can be heard in South America, Africa, Asia, and of course, Portugal. If you want to know basic Portuguese but don't want a boring textbook that unloads tons of conjugation rules or long lists of words to memorize, then this quick-and-easy phrasebook will get your feet wet without overwhelming you. This friendly book covers a wide array of subjects both helpful and interesting, including:
Numbers, days of the week, measurements, and time
Making friends and small talk
Enjoying every type of meal
Shopping in markets and at stores
Culture, leisure, and activities
Work and transportation
Finding a place to live
Dealing with emergencies
Slang and colloquial terms
Phrases and particles to make you sound like a local!
Knowing these fundamentals, you'll be able to communicate with Portuguese-speaking people and continue learning about the language and culture. With hundred of useful phrases at your fingertips, Portuguese Phrases for Dummies will give you a basic comprehension of this beautiful language and have you speaking instantly!
Explore Book