Police Officer Exam
The written exam, the physical test, and the interview. We've got what you need to get ready, then get hired.
Police Officer Exam
Books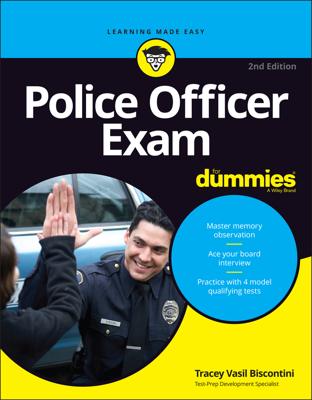 Police Officer Exam
Police Officer Exam For Dummies
Prepare to serve your community with this easy-to-follow guide for future police officers Open positions for police officers and detectives are expected to expand dramatically over the next decade. The time is right if you're looking to become a new police officer in your town or city. And whether you're hoping to become a local, county, state, or federal law enforcement official, the Police Officer Exam For Dummies has all the info you need to prepare for and pass the National Police Officer Selection Test or your local police officer exam with flying colors. From the low-down on physical ability testing and the personal background interview, to targeted reviews of judgment skills, map reading, memory, observation, and recall, this guide will whip you into shape for the police officer test in no time at all. In this book, you'll: Get the instruction you need to find your confidence and banish test anxiety for good Learn memory aids and tips so you can master the observation and recall test Get actionable and practicable test-taking strategies that actually improve your performance on the exam So, stop rubbing that rabbit's foot and start preparing like the pros do, with the Police Officer Exam For Dummies!
Explore Book
Buy On Amazon