Meal Planning
A little planning can save you loads of time, whether you're feeding an army or cooking for one. Find solutions to your unique food prep needs.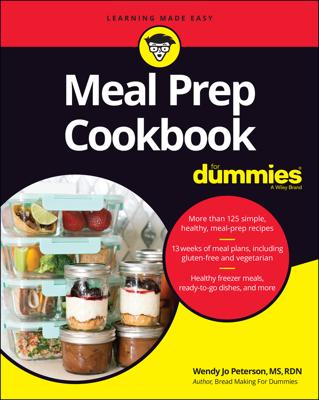 Meal Planning
Meal Prep Cookbook For Dummies
Prep ahead and save time all week long! With over 125 time-saving recipes, you can transform your schedule with make-ahead breakfasts, salads-on-the-go, and easy-to-fix charcuterie dinner boards! With simple prep each week, you can stock your fridge and freezer with heat-and-eat meals for breakfast, lunch, and dinner or do partial prep and make dinnertime a breeze. Meal Prep Cookbook For Dummies can help you spend less time in the kitchen, meet health goals, save money, and just plain eat better. With over 125 recipes, plus tips and techniques for making all your favorites ahead of time, this book lets you breeze through your week. Imagine the possibilities that will open to you when you can just pop a healthy and delectable pre-made meal in the microwave, and—ding!—your made-from-scratch dinner is ready. Prep ahead and toss vegetables and your favorite protein on a sheet pan and dinner is ready in under 20 minutes. What will you do with all your extra time? Why stress about what to eat each day? Meal Prep Cookbook For Dummies will take the uncertainty out of mealtime, as you discover everything from cooking basics to grocery store tips to meal prepping secrets. Whatever your home-chef skill level, you'll discover new favorite meals, organize your kitchen, store food efficiently, and learn new ideas to take your meal prepping abilities to the next level. Discover over 125 make-ahead recipes that you can prepare at home in 45 minutes or less, with the cooking tools you already have Meal prep for any diet (carb conscious, gluten-free, vegetarian), allergy, or food sensitivity Craft delicious and nutritious breakfasts, lunches, and dinners for yourself or your whole family Get new ideas and tips for sprucing up your staples, planning your grocery trips, and balancing your meals Before you know it, you'll have meal prep down to a science, so you can relax a little bit more, knowing breakfast, lunch, and dinner are already taken care of!
Explore Book
Buy On Amazon