Linguistics Books
Ah, linguistics — the science of language. Most of the time, we just talk and talk, without thinking about how we do it. But when you start to think, you'll find there's an awful lot to think about.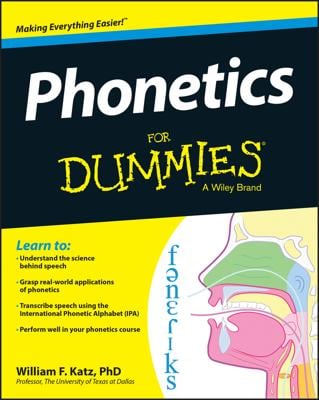 Phonetics
Phonetics For Dummies
The clear and easy way to get a handle on the science of speech The science of how people produce and perceive speech, phonetics has an array of real-world applications, from helping engineers create an authentic sounding Irish or Canadian accent for a GPS voice, to assisting forensics investigators identifying the person whose voice was caught on tape, to helping a film actor make the transition to the stage. Phonetics is a required course among students of speech pathology and linguistics, and it's a popular elective among students of telecommunications and forensics. The first popular guide to this fascinating discipline, Phonetics For Dummies is an excellent overview of the field for students enrolled in introductory phonetics courses and an ideal introduction for anyone with an interest in the field. Bonus instructional videos, video quizzes, and other content available online for download on the dummies.com product page for this book.
Explore Book
Buy On Amazon
General Linguistics
Linguistics For Dummies
The fascinating, fun, and friendly way to understand the science behind human language Linguistics is the scientific study of human language. Linguistics students study how languages are constructed, how they function, how they affect society, and how humans learn language. From understanding other languages to teaching computers to communicate, linguistics plays a vital role in society. Linguistics For Dummies tracks to a typical college-level introductory linguistics course and arms you with the confidence, knowledge, and know-how to score your highest. Understand the science behind human language Grasp how language is constructed Score your highest in college-level linguistics If you're enrolled in an introductory linguistics course or simply have a love of human language, Linguistics For Dummies is your one-stop resource for unlocking the science of the spoken word.
Explore Book
Buy On Amazon