Insurance Books
You probably never thought you'd get a kick out of reading about insurance. Well, maybe you were right. But we do our best to make it interesting, and you'll definitely learn everything you need to know about all types of coverage.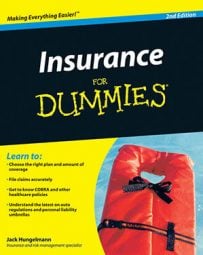 General Insurance
Insurance for Dummies, 2nd Edition
This is your guide to getting the best insurance policy! Are you intimidated by insurance? Have no fear ― this easy-to-understand guide explains everything you need to know, from getting the most coverage at the best price to dealing with adjusters, filing claims, and more. Whether you're looking for personal or business insurance, you'll see how to avoid common pitfalls, lower your costs, and get what you deserve at claim time. Get to know the basics ― understand how to make good insurance decisions and reduce the chances of a financial loss in your life Take your insurance on the road ― manage your personal automobile risks, handle special situations, insure recreational vehicles, and deal with insurance adjusters Understand homeowner's and renter's insurance ― know what is and isn't covered by typical policies, common exclusions and pitfalls, and how to cover yourself against personal lawsuits Buy the right umbrella policy ― discover the advantages, and coordinate your policies to cover the gaps Manage life, health, and disability risks ― explore individual and group policies, understand Medicare basics, and evaluate long-term disability and long-term-care insurance Open the book and find: The best life, health, home, and auto policies Strategies for handling the claims process to get what you deserve Tips on adjusting your deductible to suit your lifestyle How to navigate healthcare policies Ways to reduce your risk and your premiums Common traps and loopholes Considerations for grads, freelancers, and remote workers
Explore Book
Buy On Amazon
Annuities
Annuities For Dummies
Looking for steady retirement income? Read this book! Turning retirement savings into a steady income is a big step toward a worry-free retirement. This book introduces you to how to add annuities to your investment mix. It helps you evaluate how to select the best annuities for your needs and steer clear of the worst. You'll learn how different types of annuities can help you turn your retirement savings into a monthly paycheck, protect your investments from market ups and downs, postpone taxes, stay in your home for the rest of your life, and even buy long-term care insurance for less.. Written by an annuity thought leader who is a frequent guest-expert on webcasts, podcasts and radio broadcasts as well as editor and publisher of Retirement Income Journal, the book offers the knowledge earned from interviews with hundreds of annuity industry insiders on their own turf. Get insight into which annuities do (or don't) provide near-retirees and retirees with solid value. Stretch your savings into lifelong income Ask smarter questions when talking to an agent, broker or adviser Retire with less anxiety about the market Feel more in control of your financial life Annuities For Dummies is the must-have guide for anyone making retirement plans or managing their retirement savings.
Explore Book
Buy On Amazon