Insurance Books
You probably never thought you'd get a kick out of reading about insurance. Well, maybe you were right. But we do our best to make it interesting, and you'll definitely learn everything you need to know about all types of coverage.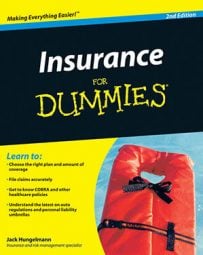 General Insurance
Insurance for Dummies, 2nd Edition
Published 05-22-2009
This is your guide to getting the best insurance policy! Are you intimidated by insurance? Have no fear ― this easy-to-understand guide explains everything you need to know, from getting the most coverage at the best price to dealing with adjusters, filing claims, and more. Whether you're looking for personal or business insurance, you'll see how to avoid common pitfalls, lower your costs, and get what you deserve at claim time. Get to know the basics ― understand how to make good insurance decisions and reduce the chances of a financial loss in your life Take your insurance on the road ― manage your personal automobile risks, handle special situations, insure recreational vehicles, and deal with insurance adjusters Understand homeowner's and renter's insurance ― know what is and isn't covered by typical policies, common exclusions and pitfalls, and how to cover yourself against personal lawsuits Buy the right umbrella policy ― discover the advantages, and coordinate your policies to cover the gaps Manage life, health, and disability risks ― explore individual and group policies, understand Medicare basics, and evaluate long-term disability and long-term-care insurance Open the book and find: The best life, health, home, and auto policies Strategies for handling the claims process to get what you deserve Tips on adjusting your deductible to suit your lifestyle How to navigate healthcare policies Ways to reduce your risk and your premiums Common traps and loopholes Considerations for grads, freelancers, and remote workers
Explore Book
Buy On Amazon
Annuities
Annuities For Dummies
Published 01-03-2008
Why look into annuities? If you're a Baby Boomer with little or no pension and most of your money in low-interest savings accounts, an annuity may be the key to a secure and comfortable retirement. How can you find out whether an annuity is right for you? Read Annuities For Dummies, 3rd Edition. This completely revised and updated, plain-English guide is packed with the latest information on choosing the best annuity for your retirement needs. You'll find out exactly what annuities are, whether they're the right financial vehicle for you, and which of the many annuity options might have your name on it. You'll learn the ins and outs of using annuities to fund your retirement years, figure out whether to stress investments with insurance or insurance with investments, and find out how the right combination of annuities can help you squeeze more income out of your savings that any other financial tool. Discover how to: Identify the main types of annuities Weigh the pros and cons of annuities for yourself Minimize the complexity and cost of your annuity investment Figure out how much money to commit Avoid common annuity pitfalls Create an income you can't outlive The time to start securing your financial future is now. Annuities For Dummies, 3rd Edition, gives you knowledge, insider tips, and expert advice you need to make your money do its best for you.
Explore Book
Buy On Amazon