IBS Diet
Show that pesky IBS who's boss.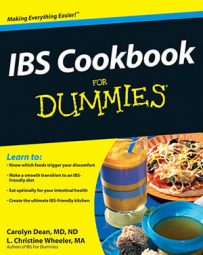 IBS Diet
IBS Cookbook For Dummies
Do you suffer from irritable bowel syndrome (IBS)? You're not alone; it is estimated that about 35 million Americans experience the symptoms of IBS. IBS Cookbook For Dummies provides those affected by IBS with easy-to-follow, easy-to-understand recipes to create meals using foods and methods that decrease the risk of experiencing the discomfort of symptoms associated with the disorder. Inside you'll find the dietary tips and information you need to decrease your symptoms and discomfort simply by watching what you eat. You'll find more than 100 tasty recipes you can easily make at home.
Explore Book
Buy On Amazon