General Teaching
Educator burnout, philosophies of teaching...it's hard work! Let Dummies help you make it a little easier.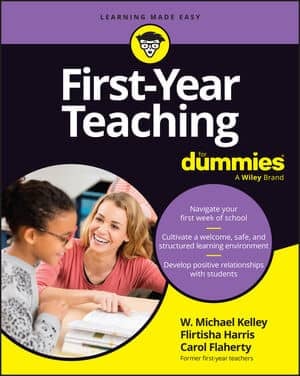 General Teaching
First-Year Teaching For Dummies
Make your first year of teaching one to remember Becoming a new teacher is one of the most fun, exciting, and challenging experiences you'll encounter in your life. Who wouldn't want a little help getting ready before sitting down behind the teacher's desk for the first time? That's where First-Year Teaching For Dummies comes in. You'll find easy-to-follow strategies and techniques to help you navigate the politics of education in your community, develop fun and fulfilling relationships with your students, and refine your own instructional style. You'll learn to: Survive and thrive in your first two weeks as you hit the ground running and win over your students, co-workers, and administrators Avoid or reduce the major stressors that can lead to burnout and other common problems Understand and handle 21st-century issues with skill and sensitivity It's almost time for you to take charge of your first classroom and you're raring to go. So, grab a copy of First-Year Teaching For Dummies to find the last-minute tips and common-sense guidance you need to help make your first school year a rewarding one!
Explore Book
Buy On Amazon