General Psychology
What can you do in a mental health crisis? Who was Erik Erikson? What is altruism? What effect does the internet have on our minds? Explore the fascinating world of human psychology.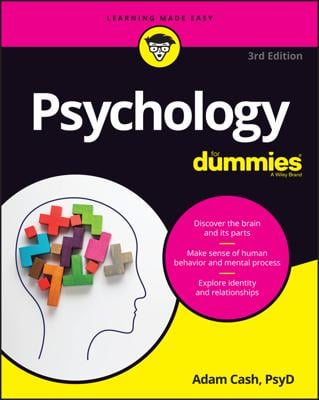 General Psychology
Psychology For Dummies
Published 09-23-2020
Find out what makes you—and everyone else—tick Psychology For Dummies takes you on the challenging and thrilling adventure into the astonishing science of why we do the things we do. Along the way you'll find out how psychology helps us improve our relationships, make better decisions, be more effective in our careers, and avoid stress and mental illness in difficult times. In a friendly, jargon-free style, clinical psychologist and teacher Adam Cash uses practical examples to delve deep into the maze of the human mind: from the basic hardware, software, and "wetware" of our brains to the mysteries of consciousness and the murkier reaches of abnormal behavior. He also provides profound insights into our wants and needs, the differences between psychological approaches, and how positive psychology can help you lead the "good life" that fulfills you most. Gain insights into identity and the self Cope with stress and illness Maintain psychological health Make informed choices when seeking counseling Whether you're new to the unconscious or an established devotee of Freud and pharmacology, Psychology For Dummies is your essential guide to the examined life—and what can make it even more worth living!
Explore Book
Buy On Amazon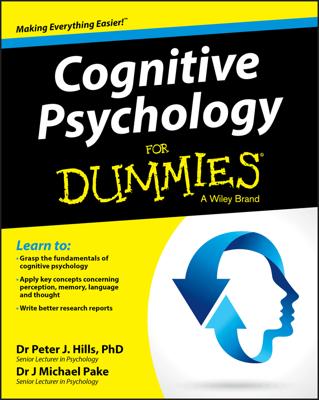 General Psychology
Cognitive Psychology For Dummies
Published 04-11-2016
Demystify the core concepts of cognitive psychology Written specifically for psychology students – and not other academics - Cognitive Psychology For Dummies is an accessible and entertaining introduction to the field. Unlike the dense and jargon-laden content found in most psychology textbooks, this practical guide provides readers with easy-to-understand explanations of the fundamental elements of cognitive psychology so that they are able obtain a firm grasp of the material. Cognitive Psychology For Dummies follows the structure of a typical university course, which makes it the perfect supplement for students in need of a clear and enjoyable overview of the topic. The complexities of a field that explores internal mental processes – including the study of how people perceive, remember, think, speak, and solve problems – can be overwhelming for first-year psychology students. This practical resource cuts through the academic-speak to provide a clear understanding of the most important elements of cognitive psychology. Obtain a practical understanding of the core concepts of cognitive psychology Supplement required course reading with clear and easy-to-understand overviews Gain confidence in your ability to apply your knowledge of cognitive psychology Prepare for upcoming exams or topic discussions Cognitive Psychology For Dummies is the perfect resource for psychology students who need a clear and readable overview of the core concepts of cognitive psychology.
Explore Book
Buy On Amazon
General Psychology
Dream Dictionary For Dummies
Published 01-15-2008
Dreams! What do they mean? You probably recognize a connection between the dream world and the "real" world, but did you know that you can actually do things to nurture your dream life? Dream Dictionary For Dummies is the fun and fascinating guide that shows you not only how to decode your dreams, but how to remember them and even how to make a dream work for you. Whether you're already a prolific dreamer or are just peeking into the unknown, you're sure to get results from the insights, techniques, and tips provided in this unique and transforming guide. An A-to-Z list of dream symbols and their meanings helps you make sense of your dreams and harness them to increase your creativity, solve problems, find life purpose, and obtain accurate personal guidance. And, just by reading the dictionary definitions, you'll begin to understand symbology in a much deeper way. You'll learn how to synchronize your body, emotions, mind, and soul to experience the full meaning of your dreams and, in some cases, make them your reality.Discover how to: Recognize your dream cycles Increase your ability to remember your dreams Keep and use a dream diary Notice your waking dreams Uncover hidden messages in your dreams Focus your dreams to solve problems or make decisions Form a dream support group So start dreaming and get back to reality with a little help from Dream Dictionary For Dummies.
Explore Book
Buy On Amazon