General Digital Audio & Radio
Do you hear what I hear? Fascinating facts about the world of audible technology.
General Digital Audio & Radio
Books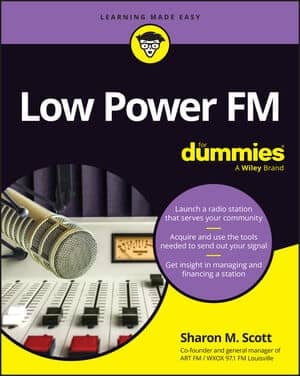 General Digital Audio & Radio
Low Power FM For Dummies
Beginner-friendly advice on how to start and run a local FM station There are approximately 2000 low power FM radio stations in the United States. That number will grow as more licenses are issued in the coming years. Low Power FM For Dummies walks you through the key steps you need to take to establish, manage, and help run one of these hyper-local broadcast operations. You'll get easy-to-follow help on everything from making all your gear work to financing your operation, managing your staff, and complying with rules and regulations. Not sure where to begin? No worries! This book explains the process of getting a broadcast license and collecting all the necessary tools. It also provides insight on starting with a station that streams online only. Already got started? That's great too! You'll learn to refine your approach to low-power FM station management with the useful tips found within. Low Power FM For Dummies will also help you: Serve your community at a hyper-local level with programming aimed directly at the people in your area Manage the people, technology, processes, and systems that underlie a well-run low-power FM station Guide the operations of a new or established station as a volunteer, board member, or creatorLow-power radio stations need well-informed and effective operators, technicians, board members, and volunteers to fulfil their potential. Low Power FM For Dummies can help you fill any of those roles, and more, in no time at all.
Explore Book
Buy On Amazon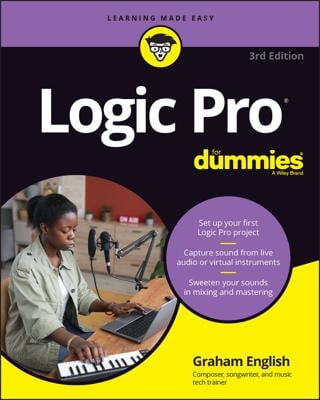 General Digital Audio & Radio
Logic Pro For Dummies
This one-stop source for Logic Pro insight helps you spend more time creating music Every minute you spend trying to figure out how to set up a new track or build a drum loop is a minute you don't spend creating and recording your music. This guide to the recording software favored by Mac users helps you bypass the time needed to search for tech answers and spend more time capturing sounds. Discover the full recording power of Logic Pro, starting with launching a project and recording your audio. Explore the built-in digital instruments and beat makers, augment your recording power with plug-ins, and finalize your song by editing, adding effects, mixing, mastering, and sharing. The final step is music stardom! Learn your way around the Logic Pro interface and understand the workflow Set up your project and add tracks and regions Record acoustic audio or conduct your orchestra of MIDI instruments Edit, mix, automate, export, and feel proud of your audio filesFor beginning music creators and producers, this Dummies guide makes it simple to get started with Logic Pro.
Explore Book
Buy On Amazon
General Digital Audio & Radio
Two-Way Radios and Scanners For Dummies
Discover a fun new hobby with helpful possibilities Get directions, talk to folks overseas, or find out whether the fish are biting Want to check out the morning news in London, help out in emergencies, or tune in to the big race? Two-way radios open up a world of possibilities - literally. This handy guide tells you about the equipment you need, fills you in on radio etiquette, shows you how to stay legal, and gives you lots of cool ideas for family-friendly radio activities. Discover how to * Use the right radio lingo * Choose and operate different types of radios * Get a license if you need one * Communicate in emergencies * Program a scanner * Tune in to sporting events
Explore Book
Buy On Amazon