General AI
AI shows up in everything from the operating room to your home entertainment system. Check out these articles for a heads-up on the latest developments in artificial intelligence.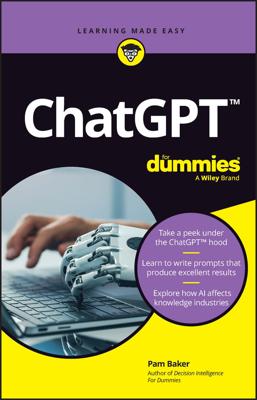 General AI
ChatGPT For Dummies
Published 06-12-2023
Learn how the disruptive AI chatbot is going to change school, work, and beyond ChatGPT For Dummies demystifies the artificial intelligence tool that can answer questions, write essays, and generate just about any kind of text it's asked for. This powerful example of generative AI is widely predicted to upend education and business. In this book, you'll learn how ChatGPT works and how you can operate it in a way that yields satisfactory results. You'll also explore the ethics of using AI-generated content for various purposes. Written by a journalist who's been on the front lines of artificial intelligence for over a decade, this book dives deep into ChatGPT's potential, so you can make informed decisions—without asking ChatGPT for help. Learn how ChatGPT works and how it fits into the world of generative AI Harness the power of ChatGPT to help you, and avoid letting it hinder you Write queries that deliver the kind of response you want Take a look into how the ChatGPT API interacts with other tools and platformsThis just-in-time Dummies title is perfect for anyone life or career may be impacted by ChatGPT and other AI. ChatGPT is just the tip of the iceberg, and this book can help you prepare for the future.
Explore Book
Buy On Amazon
General AI
Artificial Intelligence For Dummies
Published 11-24-2021
Forget far-away dreams of the future. Artificial intelligence is here now! Every time you use a smart device or some sort of slick technology—be it a smartwatch, smart speaker, security alarm, or even customer service chat box—you're engaging with artificial intelligence (AI). If you're curious about how AI is developed—or question whether AI is real—Artificial Intelligence For Dummies holds the answers you're looking for. Starting with a basic definition of AI and explanations of data use, algorithms, special hardware, and more, this reference simplifies this complex topic for anyone who wants to understand what operates the devices we can't live without. This book will help you: Separate the reality of artificial intelligence from the hype Know what artificial intelligence can accomplish and what its limits are Understand how AI speeds up data gathering and analysis to help you make informed decisions more quickly See how AI is being used in hardware applications like drones, robots, and vehicles Know where AI could be used in space, medicine, and communication fields sooner than you think Almost 80 percent of the devices you interact with every day depend on some sort of AI. And although you don't need to understand AI to operate your smart speaker or interact with a bot, you'll feel a little smarter—dare we say more intelligent—when you know what's going on behind the scenes. So don't wait. Pick up this popular guide to unlock the secrets of AI today!
Explore Book
Buy On Amazon
General AI
Enterprise AI For Dummies
Published 08-25-2020
Master the application of artificial intelligence in your enterprise with the book series trusted by millions In Enterprise AI For Dummies, author Zachary Jarvinen simplifies and explains to readers the complicated world of artificial intelligence for business. Using practical examples, concrete applications, and straightforward prose, the author breaks down the fundamental and advanced topics that form the core of business AI. Written for executives, managers, employees, consultants, and students with an interest in the business applications of artificial intelligence, Enterprise AI For Dummies demystifies the sometimes confusing topic of artificial intelligence. No longer will you lag behind your colleagues and friends when discussing the benefits of AI and business. The book includes discussions of AI applications, including: Streamlining business operations Improving decision making Increasing automation Maximizing revenue The For Dummies series makes topics understandable, and as such, this book is written in an easily understood style that's perfect for anyone who seeks an introduction to a usually unforgiving topic.
Explore Book
Buy On Amazon