Franchise Management
Keeping your franchise employees and bosses happy is a job in itself. And then there are the customers. Check out our popular articles on how to make your franchise run smooth as silk.
Franchise Management
Books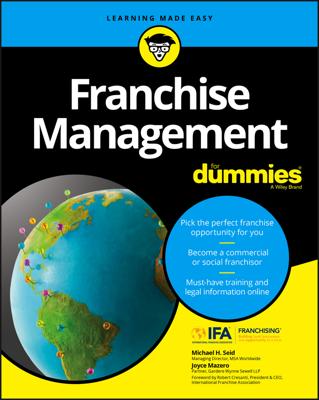 Franchise Management
Franchise Management For Dummies
Learn what it takes to find, buy, and run a franchise -- and enjoy the rewards of being your own boss If you've ever visited a chain restaurant and thought, "I'd like to run one of these," you're among countless would-be entrepreneurs eager to be their own boss. Franchise Management For Dummies is a hands-on guide that provides clear and concise information on the issues involved in finding, buying, operating, and ultimately growing a successful franchise business. Geared toward both novices and experts in franchising, it's an essential guide to help prospective franchisees know what to look for in a great franchisor, and to show existing franchisees what great franchisors are providing their franchisees. Both emerging and experienced franchisors will gain an understanding about the proper methods of structuring, managing, and expanding their franchise systems. Social impact investors, donors, and NGOs can learn how franchising techniques can transform how they look at providing products and services at the base of the pyramid. Inside you'll discover: How to find a franchise that's right for you and the ideal location for it Where to find quality franchisors and understand the qualities franchisors look for How to gather information from franchisees A franchisor's mandatory legal obligations to prospective franchisees, the franchise disclosure document (FDD), and working with franchise professionals How to take a realistic look at your finances and what capital you'll need to buy and launch a franchise Develop strategic advertising and marketing plans How to find, hire, and train talented employees who will help make your franchise a success How to make sure your franchise makes money How to grow your business with multiple franchises And more! Additionally, Franchise Management For Dummies includes a glossary of common franchise-related terms, ten keys to franchisee success, and the questions to ask before becoming a franchisor. Get a copy today and find out if owning and operating a franchise is the right business move for you.
Explore Book
Buy On Amazon