Currency
Learn how to navigate forex (foreign exchange) markets, time your trades, and profit from global exchange rates.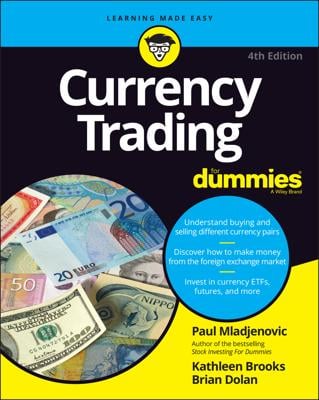 Currency
Currency Trading For Dummies
Trade currencies like a seasoned pro with this friendly, fact-filled guide to the forex market Over $6 trillion changes hands in the foreign exchange market every day. You can jump straight into the action with expert guidance from the hands-on Currency Trading For Dummies. You'll learn how the foreign exchange market works, what factors influence currency values, and how to understand financial data. When you're ready to create your own game plan for trading currencies, you'll be able to build it around your investment objectives, experience level, and risk appetite. You'll also find details on the latest trends in currency trading, including currency ETFs, cryptocurrencies, and currency options. From essential newcomer knowledge to advanced positioning advice, Currency Trading For Dummies offers straightforward instruction that helps you: Source data and market intelligence, employ technical analysis, and use the latest tech to find the most lucrative trading opportunities Understand the most recent Securities and Exchange Commission (SEC) rules and regulations governing currency trading Avoid common pitfalls and mistakes made by novice and experienced currency traders Recognize profitable opportunities in the world of ETFs, currency options, and cryptocurrencies Successful currency trading is within your grasp. This accessible roadmap to trading mastery provides the foundational knowledge you need to create a structured, winning strategy and conquer the forex market.
Explore Book
Buy On Amazon