Credit Reports
Maintaining good credit throughout life can help you get where you want to be. Learn what your credit score means and how to fix credit problems, plus credit-building strategies for all situations.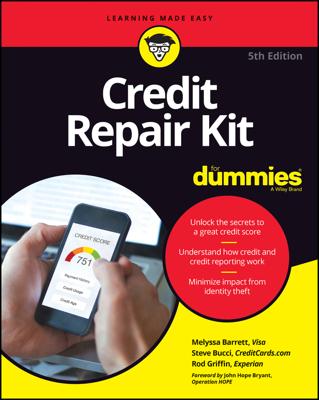 Credit Reports
Credit Repair Kit For Dummies
Published 01-07-2021
Sensible ways to manage and repair your credit Need a credit makeover? You're not alone: in the U.S., outstanding credit card and other types of revolving debt have jumped over 20% in the past decade, and millions of Americans are struggling with one or more credit-related issues. Whether you're just working on improving your score or need some sound advice on how to make debt a thing of the past, the latest edition of Credit Repair Kit for Dummies is packed with reliable information for escaping the quicksand and taking the concrete steps needed to build up a solid score. There are many reasons why you might have a subpar credit score—mortgage and auto debt, student loans, impacts of disasters such as COVID-19, and even identity theft. This book covers these scenarios and more, helping you identify the reasons behind a lower score and providing you with straightforward, proven techniques for managing it back to where you want it to be. Also included are sample credit reports, forms, templates, and other helpful online tools to use to whip your score into decent shape. Add information to your report to beef-up a low score Avoid, reduce, and get rid of mortgage, credit card, student loan, and auto debt Keep a good credit score during a period of unemployment Fight back against identity theft A good credit score is always a great thing to have. This book shows you how to put even the worst credit situations behind you and make a poor score just a bad—and distant—memory.
Explore Book
Buy On Amazon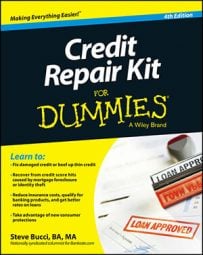 Credit Reports
Credit Repair Kit For Dummies, 4th Edition
Published 03-14-2014
Credit card debt is the third largest source of household indebtedness. Credit Repair Kit For Dummies gives you the tools you need to repair your credit. This new edition covers: major changes with the Consumer Financial Protection Bureau's (CFPB) inquiry into overdraft practices and their effect on consumers; dealing with the effect of tightened credit markets on those with good, marginal, or bad credit; best ways to recover from mortgage related score hits or minimize damage after walking away from a home; updated Vantage Score information; updated coverage on reporting programs like FICO Score watch, etc.; what makes a good FICO score today; a new section on significant others (boyfriend/girlfriend/spouse) and credit/debt sharing; Debt Relief Act in a mortgage meltdown situation; the latest tips and advice on dealing with identity theft and annoying collection calls; and more.
Explore Book
Buy On Amazon