Containers
Vegetables, flowers, shrubs, herbs, and more flourish when you dig into container gardens.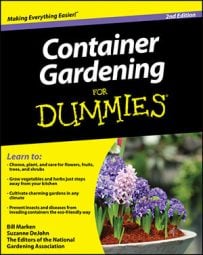 Containers
Container Gardening For Dummies, 2nd Edition
This is the easy way to get a green thumb in container gardening! Want to spruce up your indoor or outdoor space with annuals, perennials, vegetables, and succulents? This edition of Container Gardening For Dummies gives you clear, concise step-by-step instructions for cultivating delightful gardens in everything from a redwood window box to a hanging basket to an old watering can. It also includes color photos to inspire your designs. Getting the dirt on container gardening ― discover the advantages of growing plants in containers and learn how to maximize your garden conditions to help plants thrive Picking a pot to plant in ― take a look around your living space and determine the best location and type of container for your garden Enjoying a summer fling ― get the lowdown on the best single-season flowers, vegetables, and bulbs for container growing Putting down roots ― find out which perennials, trees, shrubs, fruits, and berries give year-round impact Designing and decorating ― take advantage of ideas and inspiration for creating eye-catching container gardening displays Open the book and find: Things you need to know before planting A quick primer on climate What to look for in a soil mix How to work with perennials and annuals Information you need to help you choose plants Why and when containers need water and fertilizer Guidance on replanting, repotting, and pruning Tips for preventing insect pests and diseases Ways to liven up your space with trees, shrubs, and vines
Explore Book
Buy On Amazon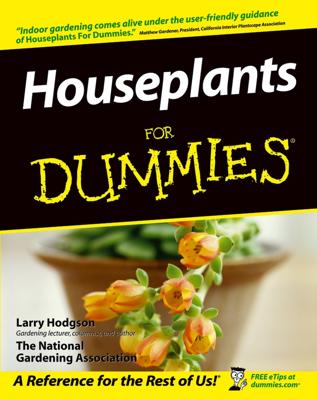 Containers
Houseplants For Dummies
Looking to bring some outside greenery indoors? Maybe you already have an indoor garden and are looking to create a botanical jungle. Whatever the case may be, houseplants are an ideal inexpensive way to beautify your dwelling. You'll be rewarded with purer air and you're sure to enjoy watching your plant sprout, climb, and even flower. Of course, before you start working on crafting a greenhouse, you need to know what kinds of plants you can grown in your home and which plants are best suited to your taste and style. Houseplants For Dummies introduces dozens of different foliage plants, flowering plants, cacti, and exotic varieties. Your green thumb is sure to get even greener once you've read about: Houseplant basics Identifying indoor microclimates Indoor plant "biographies" Differentiating between direct, indirect, and low light Watering needs Rules of fertilizing Temperature and growing cycles Houseplants For Dummies is packed with houseplant growing techniques, tips, tricks, and even goes the extra mile with a chapter devoted to the various ways you can display houseplants if you're looking for some bragging rights! Whether you're new to the world of houseplant basics or you're a seasoned gardener, you'll get the "inside dirt" on topics such as: Various potting soil mixes Preparing plants for indoor life Cleaning, pruning, and staking Propagating houseplants Dealing with pests and diseases Building your own controlled climate And much more The material is arranged into six clear and helpful sections: houseplant basics, houseplant profiles, growing essentials, potted plant maintenance, houseplant settings, and valuable ideas – each section helping you create your own indoor forest. Even if you're convinced you have a black thumb, Houseplants For Dummies will have you living among the green in no time!
Explore Book
Buy On Amazon