Citizenship Tests
This is your big moment — make sure have the knowledge you need to become a citizen.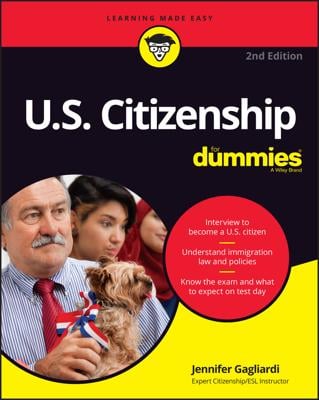 Citizenship Tests
U.S. Citizenship For Dummies
Become a U.S. immigration wiz with this hands-on and practical guide to U.S. citizenship In U.S. Citizenship For Dummies, expert citizenship and ESL instructor Jennifer Gagliardi walks you through the ins and outs of the complicated process of obtaining citizenship in the United States. From preparing for test day to understanding the interview process and learning about recent changes to immigration laws, this book demystifies the legal process of transforming a foreign national into a citizen of the U.S. In this book, you'll get: Up-to-date info on the various application and immigration forms you'll need to complete to become a citizen Needed preparation for the all-important interview Complete coverage of the different visas and green cards available to foreign nationals and how you can qualify for them Whether you're an immigrant-to-be who's interested in becoming an American citizen, or you're already a citizen but you want to bone up on U.S. history, government, and civics knowledge, U.S. Citizenship For Dummies is the perfect guide to the procedural and substantive knowledge you need to understand the American immigration system.
Explore Book
Buy On Amazon
Citizenship Tests
The British Citizenship Test For Dummies, 2nd UK Edition
This fully updated edition of The British Citizenship Test For Dummies covers all the most up to date information that you need to know to pass the latest UK Governments Life in the UK test valid for tests taken after April 2007. With an in-depth coverage of the nations history, culture, customs and educational, political and social institutions, and over 300 questions to practice on, this is the perfect helping hand on your way to becoming a British citizen.
Explore Book
Buy On Amazon