Citizenship Tests
This is your big moment — make sure have the knowledge you need to become a citizen.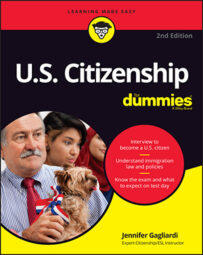 Citizenship Tests
U.S. Citizenship For Dummies, 2nd Edition
Published 06-13-2022
This book is a hands-on, easy-to-follow guide to all you need to know about the complicated process of obtaining U.S. citizenship. It includes how to prepare for the exam and interview process, as well as recent changes to immigration laws. Also included are updates related to the applications and immigration forms, different types of visas and green cards, and much more.
Explore Book
Citizenship Tests
The British Citizenship Test For Dummies, 2nd UK Edition
Published 11-09-2007
This fully updated edition of The British Citizenship Test For Dummies covers all the most up to date information that you need to know to pass the latest UK Governments Life in the UK test valid for tests taken after April 2007. With an in-depth coverage of the nations history, culture, customs and educational, political and social institutions, and over 300 questions to practice on, this is the perfect helping hand on your way to becoming a British citizen.
Explore Book