Cats
Do cats prefer life indoors or outdoors? What constitutes an emergency for a kitten? Get the answers to these questions and more with our easy-to-follow guides.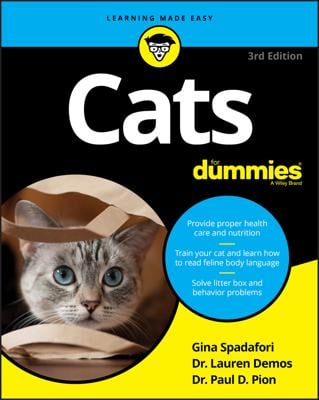 Cats
Cats For Dummies
Everything you need to take care of your feline friend Cats are the purrfect pets: they're relatively easy to care for, a blast to play with, and sure to win the heart of every member of your family with their loving nature—and sometimes sassy demeanor! Cats For Dummies gives you expert insight into everything from cat behavior to what makes each type of feline unique. With this easy-to-understand guide, you'll be able to tackle those tough cat-astrophes from dealing with problem behaviors like scratching the furniture and missing the litter box—all while learning to understand what your cat is trying to tell you. Happily bring a cat or kitten into your life Keep your new four-legged family member comfortable and safe Live a happy feline-friendly life Keep your cat in prime health Whether you're looking to get your first kitten or adopt a senior cat, this book covers all the basics of feline cat care.
Explore Book
Buy On Amazon
Cats
Kittens For Dummies
Who can resist the charm of a kitten, those energetic, curious creatures whose cuteness factors fall somewhere between adorable and irresistible? But as animal shelters across the country can attest, those enchanting balls of fluff quickly mature into full-grown cats with their own requirements for healthy, happy lives. Kittens For Dummies is your source for understanding what you can expect if you decide to welcome a high energy and high maintenance four-legged friend into your home. You'll not only figure out if you're ready to fit a kitty into your lifestyle, but also how to go about Adopting or buying the right kitten for you Making sure your home is kitten-proof Introducing your new pet to children and other pets Preventing and treating feline illnesses Dealing with behavioral issues Rescuing an orphaned kitten Books abound about kitten care. Unlike many of themÂthose that seem to require a veterinary medicine degree to figure outÂKittens For Dummies explains everything in plain, everyday English. And like the subject itself, this handy reference is full of fun. In entertaining, informative language, the friendly guide gives you the real deal on Doling out plenty of love, attention, and patience Deciding whether kitty will be allowed to explore the outdoors Making your kitten comfy with the right supplies and accessories Knowing how often to ring the dinner bell Recognizing emergencies that call for quick trips to the veterinarian Locating qualified caretakers when you travel Nurturing kitty into adulthood Before you take the giant leap into kitten ownershipÂa wonderful and sometimes chaotic worldÂcheck out the expert advice in a resource that's bound to become as constant a companion as your purr-fect pet. P.S. If you think this book seems familiar, youÂre probably right. The Dummies team updated the cover and design to give the book a fresh feel, but the content is the same as the previous release of Kittens For Dummies (9780764541506). The book you see here shouldnÂt be considered a new or updated product. But if youÂre in the mood to learn something new, check out some of our other books. WeÂre always writing about new topics!
Explore Book
Buy On Amazon