Call Centers
Enhance your marketing and customer service techniques with advice for call center representatives and managers.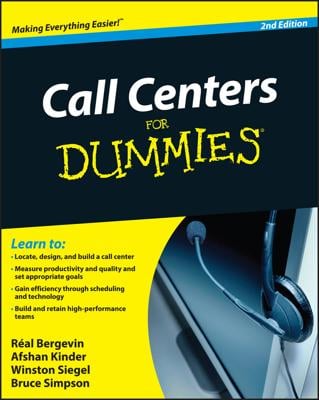 Call Centers
Call Centers For Dummies
Tips on making your call center a genuine profit center In North America, call centers are a $13 billion business, employing 4 million people. For managers in charge of a call center operation, this practical, user-friendly guide outlines how to improve results measurably, following its principles of revenue generation, efficiency, and customer satisfaction. In addition, this new edition addresses many industry changes, such as the new technology that's transforming today's call center and the location-neutral call center. It also helps readers determine whether it's cost-efficient to outsource operations and looks at the changing role and requirements of agents. The ultimate call center guide, now revised and updated The authors have helped over 60 companies improve the efficiency and effectiveness of their call center operations Offers comprehensive guidance for call centers of all sizes, from 20-person operations to multinational businesses With the latest edition of Call Centers For Dummies, managers will have an improved arsenal of techniques to boost their center's bottom line.
Explore Book
Buy On Amazon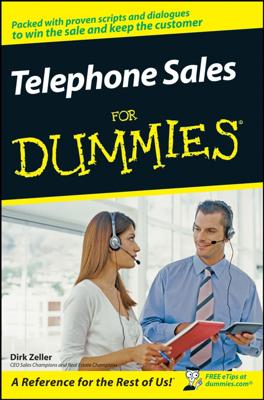 Call Centers
Telephone Sales For Dummies
Nearly 100 million Americans (one out of three) purchase goods and services over the phone each year. Telephone Sales For Dummies shows both new and seasoned sales reps, from realtors, insurance agents to telemarketers, how to create pre-call plans and effectively prospect via the phone. Packed with techniques, scripts, and dialogues, this hands-on, interactive guide assists readers with making cold calls, warm calls, and referral calls, helping them plan and execute openings to create interesting dialogue; ask key questions; develop persuasive presentation techniques; work within the No Call Law parameters; leave effective and enticing voicemails that get results; get past screeners and get quality referrals; find hot leads; and create callback scripts that close the sale.
Explore Book
Buy On Amazon
Call Centers
Telecom For Dummies
Find out how to manage your telecom services and save your company money! Worldwide telecom spending was over $4 trillion in 2004, and virtually all 12 million businesses in the U.S. buy phone and other telecom services Our book shows people at small and medium-sized businesses how to make sense of telecom lingo and get the best deals Includes an overview of the major players in the telecom industry and an easy-to-understand explanation of the existing telecom infrastructure Helps people pinpoint the telecom services best suited to their business needs, understand billing, and troubleshoot problems Covers emerging industry trends, such as Voice over Internet Protocol (VoIP), and how they can help businesses cut costs
Explore Book
Buy On Amazon