Bartending
Mix it up with our classic recipes, alcohol must-knows, and techniques that will wow them every time.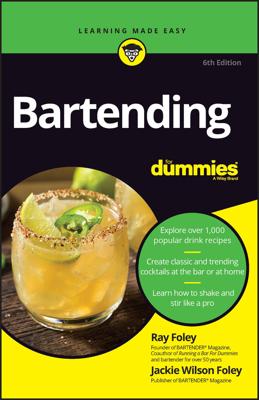 Bartending
Bartending For Dummies
Make drinks like a master mixologist with 1,000 recipes Bartenders are the life of the party—and it's never been easier to prepare and serve drinks that keep partygoers coming back for more! Whether you want to break into professional bartending or up your ante as a home mixologist, this clear, easy-to-follow guide has you covered. With tips on stocking your bar and working with the right tools and garnishes, as well as information on the latest liquor trends and popular new cocktails, it won't be long before you hear, "Bartender, may I have another?" Concoct the perfect timeless and modern drinks Learn how to create perfect low and no-alcohol options Replicate everyone's favorite ready-to-drink cocktails Stock your bar with the best glasses and tools If you're looking for fresh ideas to keep your friends or customers happy, Bartending For Dummies is the perfect how-to resource for making a splash with great drinks.
Explore Book
Buy On Amazon