Banjo
You can pick fights, pick your cuticles, or pick the banjo. If it's the banjo you're after, we've got your chords, licks, and pro tips.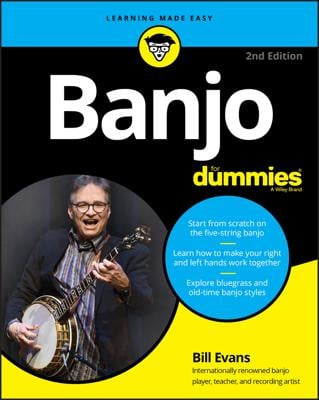 Banjo
Banjo For Dummies
Here's the quick way to get pickin' with the best of 'em The banjo is both a staple of old-time music and an instrument that makes frequent cameos in today's chart toppers. Whatever your musical leanings, Banjo For Dummies will show you how to pick your way around your instrument, even if you have zero musical background! With a little practice—and the easy-to-follow instructions in this book—you can learn your way around the banjo, try out various musical styles, and discover what banjo culture is all about. Think of this For Dummies guide as your personal banjo tutor, as you learn how to buy, tune, hold, play, and have fun with your five-string. You can also go beyond the book with online video lessons and audio files that will get you picking even faster. Follow the guidance of respected banjo performer Bill Evans and soon you may find yourself jamming with a band or rubbing elbows with the pros at your local bluegrass festival. Learn the basics of banjo: how to strum chords, pick notes, and read tablature Add new styles to your repertoire, including clawhammer, three-finger styles, vamping, and classic banjo Play bluegrass music and learn how to network at festivals Choose the banjo and accessories that work for you, and discover how to keep them in good shape Banjo For Dummies is for anyone who want to learn to play the five-string banjo or brush up on banjo-playing skills. No experience required!
Explore Book
Buy On Amazon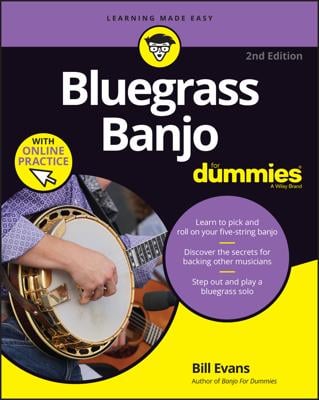 Banjo
Bluegrass Banjo For Dummies
Pick and roll your way through bluegrass banjo basics The banjo nearly defines the bluegrass sound, and you'll be playing your own favorite tunes—or maybe writing some new ones—with the help of this book. Bluegrass Banjo For Dummies is the place to start if you're ready to start learning banjo or upgrade your skills to play in the bluegrass style. Written by an expert musician and educator, this book makes it easy to start plucking your 5-string banjo using common bluegrass techniques. You'll also have access to over 100 online audio files, and 35 video lessons, so you can see and hear the techniques in practice. This book serves as your first step to becoming a bluegrass banjo player, even if you're completely new to playing musical instruments. Choose the right banjo, pick up the basics, learn classic banjo licks, and more—the easy way. Learn how to read banjo tablature and perform on a five-string banjo Get insight on playing as part of a bluegrass combo band Practice with classic bluegrass tunes and banjo licks Create banjo solos that will wow your audiencesThis friendly For Dummies guide is great for fledgling banjo players interested in the bluegrass style. Whether or not you already play another instrument, you'll pick up the banjo basics you can show off at your next local bluegrass festival.
Explore Book
Buy On Amazon